I've been buying avocados the last couple weeks. This is embarrassing because I have more than a dozen avocado trees growing in my yard.
We have no fruit off our own trees at the moment due to a combination of some trees having an "off" year, plus the record-breaking heat this summer, plus the reality of late September through October always being a period of paucity in the avocado year of Southern California.
But I've been finding some good avocados to buy, drawing on strategies that I used years ago when I had no trees of my own, and here is how.
Buy avocados from California
The first thing I look for is where the avocado was grown, and if it's not from California I almost never buy it. Here in 2018 we get imports from Mexico, Chile, and Peru. None of these imports ever taste as good as California avocados. None, ever. There are myriad causes, including transportation distance, time in cold storage, and growing climate. Look for stickers on the fruit that say California or USA (which means California because there's nowhere else in the country that grows Hass avocados).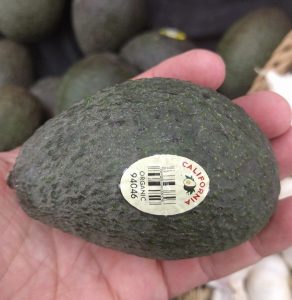 Just because an avocado was grown in California does not mean it will be high quality and great tasting, no doubt. But all other circumstances being equal (see below), California-grown avocados have a far higher likelihood of being superior, in my experience.
Buy avocados that are green and hard, unripe
Secondly, I look for fruit that is green and hard, unripe. You know what people do to avocados on the store shelf. I'm sure you don't do it, but you've seen people do it. Mr. and Mrs. Squeezy Fingers: "Hmmm, is this one ripe? Squeeze, squeeze. Is this one ripe? Squeeze, squeeze."
Every poke of their finger tips causes bruising and rotting. Only you can't tell because the skin of Hass fruit usually turns black as it ripens, the same color as the bruising they're causing.
But Mr. and Mrs. Squeezy Fingers don't usually assault green and hard fruit. They go after black fruit, which is also easier to damage since it's softening. So I buy only the greenest and most unripe fruit I can find. (In the photo of the bin of avocados at the top, if I had to buy one of those fruit, I'd choose a green one from the bottom of the pile.)
Buy avocados that are bagged
Even more reliable than individual green and hard avocado fruit is buying green and hard avocados that are sold in bags. Around me, the stores that most commonly do this are Trader Joe's and Costco. These bagged avocados are even less likely to have been beaten up by Mr. and Mrs. Squeezy Fingers. Rarely have I bought a bag of four little green California Hass from Trader Joe's and cut them open to find bruising and rotting inside; they're almost always of high quality, much more often than any other store-bought avocados.
Even if you can't find California Hass avocados in a bag, buying bagged avocados grown in a far off country is usually a safe bet in terms of avoiding the bruising and rotting caused by fellow shoppers. For example, I just visited my brother and sister-in-law in Reno, Nevada who bought bagged Hass avocados at Costco that were grown in Peru. The avocados were nowhere near the prime flavor of California fruit, but they were all without interior rot. That's worth a lot.
Buy greenskin varieties when Hass is out of season
I also just visited some friends in Corvallis, Oregon who buy their avocados at First Alternative, a food co-op. On September 12, this store still had California Hass available. I bought this one: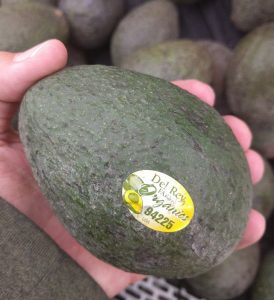 An irony here is that if you go to the website of the California Avocado Commission, a marketing organization, you'll find at the top of the page: "season has ended."
This is misleading. The truth in it comes from the fact that almost all California avocados grown for commercial purposes are of the Hass variety, and the Hass season is winding down. But in September there is still excellent Hass fruit coming off trees in the northern areas of the southern part of California.
More importantly, there are varieties other than Hass that have a later season, and if you can get your hands on them, don't let go, and consider yourself lucky. For example, there is the Reed avocado, which is still in season now.
I've bought many Reed avocados at Whole Foods Markets in years past.
I asked my friends in Corvallis if they ever got avocados other than Hass at the co-op, and they remembered getting Bacon. Besides the greenskins Reed and Bacon, I've seen some Fuerte avocados sold in select stores, for example at Bristol Farms. But I've never seen them in typical supermarket chain stores.
The seasons to find Bacon and Fuerte avocados are from about November through the end of winter, then Hass fruit from California arrives in stores around March and lasts through summer. In September and October, look for Reed.
Buy avocados at farmers markets
And then there are good avocados to be had at farmers markets. The appeal of buying avocados at a farmers market is that you can buy varieties other than Hass and that are in season. I've bought Pinkerton, Edranol, Nabal, MacArthur, Corona, and other uncommon varieties at farmers markets throughout California over the years. Nevertheless, you still have to be a wise shopper and buy green and hard if possible, and also don't assume that labeling is correct. I've seen, for example, Zutano avocados labeled as Hass.
But if you get to know the farmer or person staffing the farmer's booth at the market, you can get some great avocados at the height of their season.
In summary, buy California-grown, green and hard, maybe bagged Hass avocados. Or buy greenskin varieties like Reed or Fuerte whose quality is easy to discern since damage is more apparent compared to on the black skin of Hass. Find good Hass avocados at some chain grocery stores like Trader Joe's, but greenskins are most likely found only at smaller, specialty food stores or farmers markets.
As a final note, a few California avocado growers have started selling their fruit directly through their own website or Amazon. I've yet to try avocados from any of them. But if I lived outside the western states of the U.S., with no other access to California fruit, I'd order some. It seems highly likely that the fruit will be good since it's grown relatively close in California, shipped straight to you without being touched by Mr. and Mrs. Squeezy Fingers, and the farmers sometimes offer different varieties in the peak of their season.
(Find these growers by doing a web search of "buy California avocados.")
Also, I've mailed avocados from my trees to family who live out of state and the fruit has arrived in top shape so I know the method is feasible.
You pay a lot for such second best fruit, but if the best avocados in the world — those off your own trees — aren't available, then you do what you have to.
You might also like to read my posts: