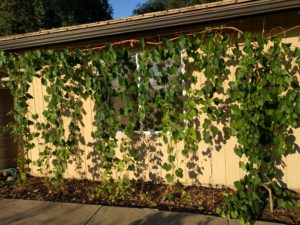 This is the native grape of our area, Vitis girdiana, and I planted it two winters ago. Grapes grow like grass fires! The first year I tied it up a string that I hung from the fascia board. This year I tied it along a wire that runs parallel to the fascia board, fastened to eye screws and held taut by a turnbuckle.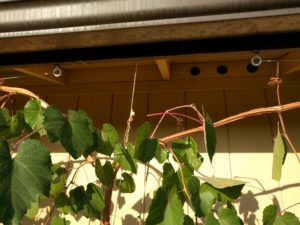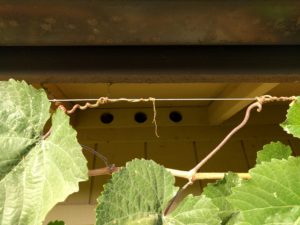 That's the end of its training. Now I'll only have to prune it up each winter so the winter sun can hit our windows and warm the house, and so the view of the mountains is preserved.
A grapevine does this job of summer shade far better than other plants I've tried. Beans burn out before the summer is over, tomatoes require planting, training, and pruning every year, and passion fruit isn't deciduous. Also, believe it or not, I've only given this grapevine a little water every couple weeks through the summer. Looks like I've found the winner.
The view each morning from inside the house looking out is now so much softer than the straight summer sun; it's of glowing grape leaves.