Shoemaker Farm opened for persimmon picking on October 27. The farm address is 18131 Traylor Road, Ramona. It is open from 9 AM to 4 PM on Thursday, Friday, Saturday, and Sunday. The cost for a five-gallon bucket full of persimmons is $35.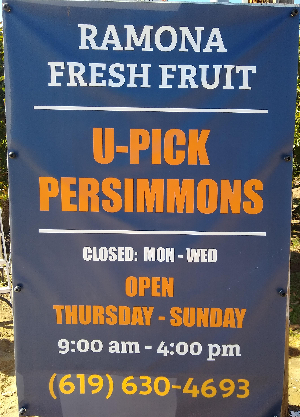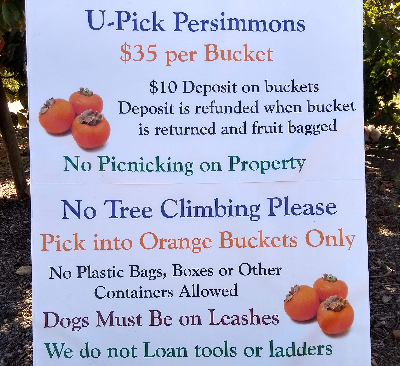 Our 2022 picking, October 28:
The trees are loaded again this year, and I took the family to pick this morning.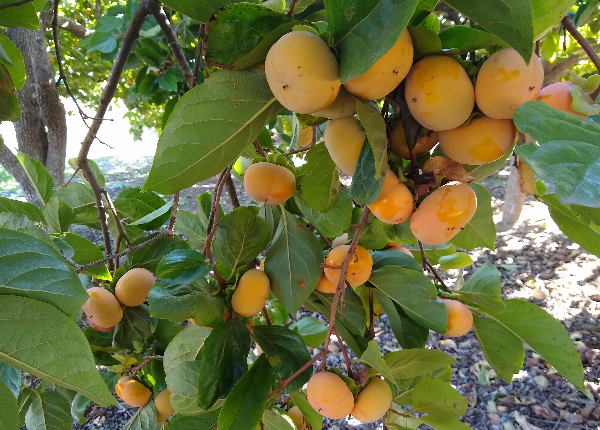 I suggest you go soon because the fruit already tastes awesome and so many can be picked from the ground (no ladders needed). Here is my son's recommendations on how to pick (no tools needed):
You should also eat a few as you pick, as my daughter demonstrates: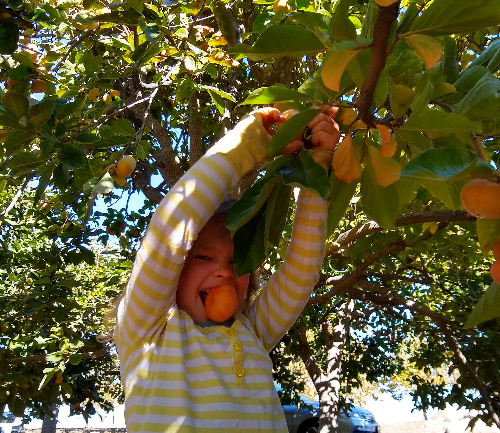 Otherwise, here are my two favorite ways to eat fresh (Fuyu) persimmons once you get home:
Don't be intimidated by coming home with a whole bucket of persimmons. Share some with friends and family, eat the orangest ones first, and trust that the rest will soften slowly enough that none will be wasted. In the end, you can also slice and dry those that you can't consume fresh.
(Below is my original post from 2016, and below that are updates from 2018, 2019, 2021. Watch the farm signs change, the prices increase, and my kids grow up.)
While working in the yard yesterday, an Asian woman with a heavy accent stopped her car and asked if I knew where Shoemaker Farm was. I'd never heard of it, I said.
"There are persimmons," she said.
"Aah! It's just down the street." I pointed.
There's a u-pick persimmon orchard two blocks from our house, only I hadn't known the name.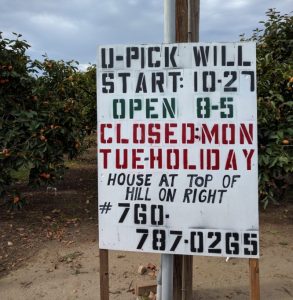 This morning, I loaded up my two sons and drove the truck down the street. For $20, we got to fill up a five-gallon bucket.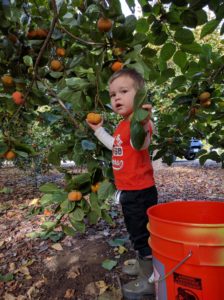 Cass helped picked some low-hanging fruit.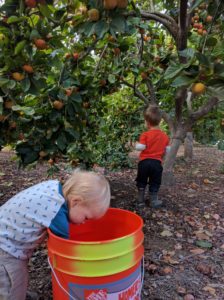 Miles seemed to think that it was his job to take the fruit back out of the bucket and toss it on the ground.
There were two older women picking to the east of us and three Asian families picking to the west of us. These were Fuyu persimmons. They come from Japan. It made sense that the people most interested in picking a bucket of persimmons were immigrants from Asia.
But I didn't fill my bucket to the rim.
During the picking, we took a break and ate a couple. Also, and more importantly, a couple days earlier while taking a jog near the persimmon orchard, I had picked a couple because I wanted to see if they were ripe. I had known that I would come pay for a bucket soon — that was how I justified the "theft."
When we were done picking, Cass, Miles and I brought our bucket back to show Mrs. Shoemaker.
"You didn't quite fill it up," she said.
"I know. We ate a couple while we were down there picking."
"Well, I'm going to fill it up for you," she said, and she fetched a nearby plastic bag of persimmons.
I felt guilty, but I didn't say anything, and then Mrs. Shoemaker made me feel guiltier.
"Ed caught a woman trying to steal these the other day, so let me put them in your bucket."
If you want to pick persimmons
The season starts in late October and ends in mid- to late-November. It's a good idea to bring hand pruners with which to clip the stems, but you can also give the persimmons a few twists and then pull them off.
Early in the season, you can find plenty of fruit to pick by hand while standing on the ground. However, if you're there later than about November 10, consider bringing a pole picker or step ladder. Much of the fruit left on the trees will be in the upper part of the canopy.
Update 2018: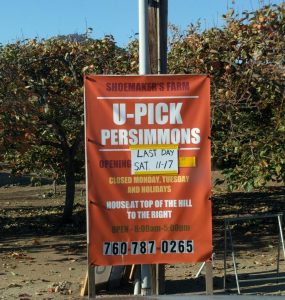 Barely made it this year. Picked on the last day of the season, November 17. We are so grateful that the Shoemakers continue to allow the public to pick persimmons on their farm. It's a unique offering in Southern California, the fruit tastes better than any I've had anywhere else.
A five-gallon bucket now costs $25.
I still feel guilty, and even this year I didn't totally fill my bucket.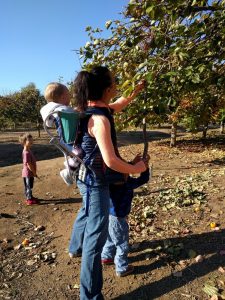 Update 2019:
We picked earlier this year so it was easy for the kids to help as much fruit was within their reach.
The price remains $25 for a five-gallon bucket, and you'll need to leave a $10 deposit until you return the bucket.
Also note that the Shoemakers do grow other varieties of persimmon besides Fuyu: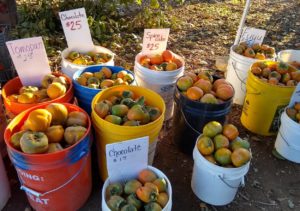 Update 2021:
The crop on the trees this year is magnificent. The Shoemakers estimate it might last beyond Thanksgiving, as it is one of the biggest they've ever had. (This is welcome, and not so surprising, since the crop on their persimmon trees last year was very weak.)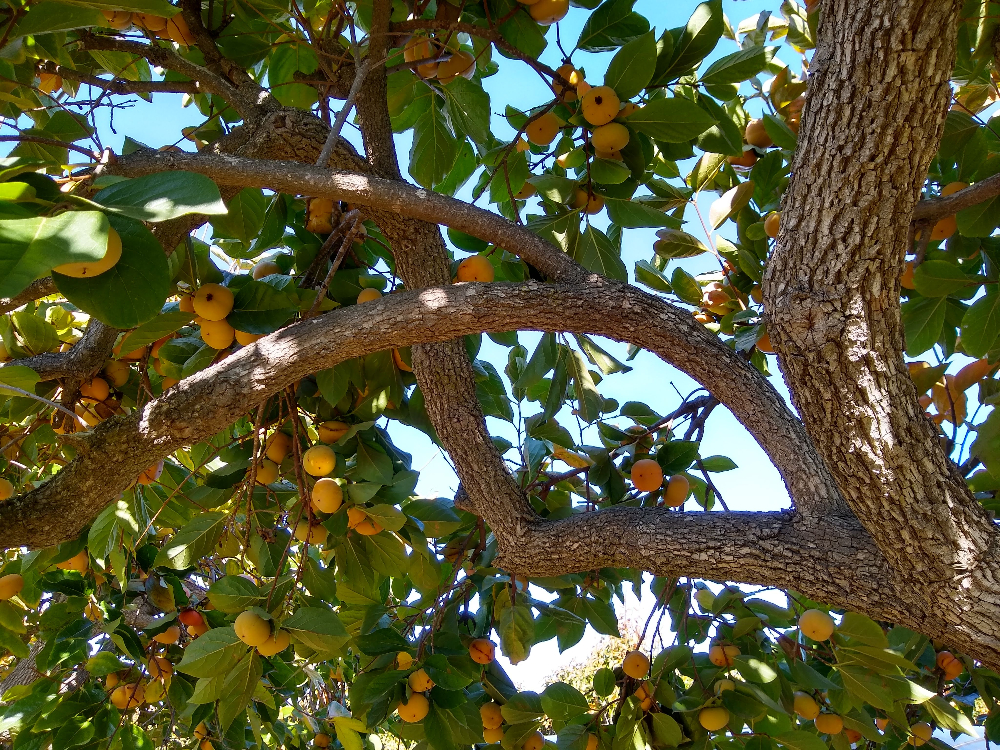 We visited to pick on November 4 and there was no need for a ladder; the trees had so much good fruit hanging down low that even my young children could do all the picking by hand from the ground.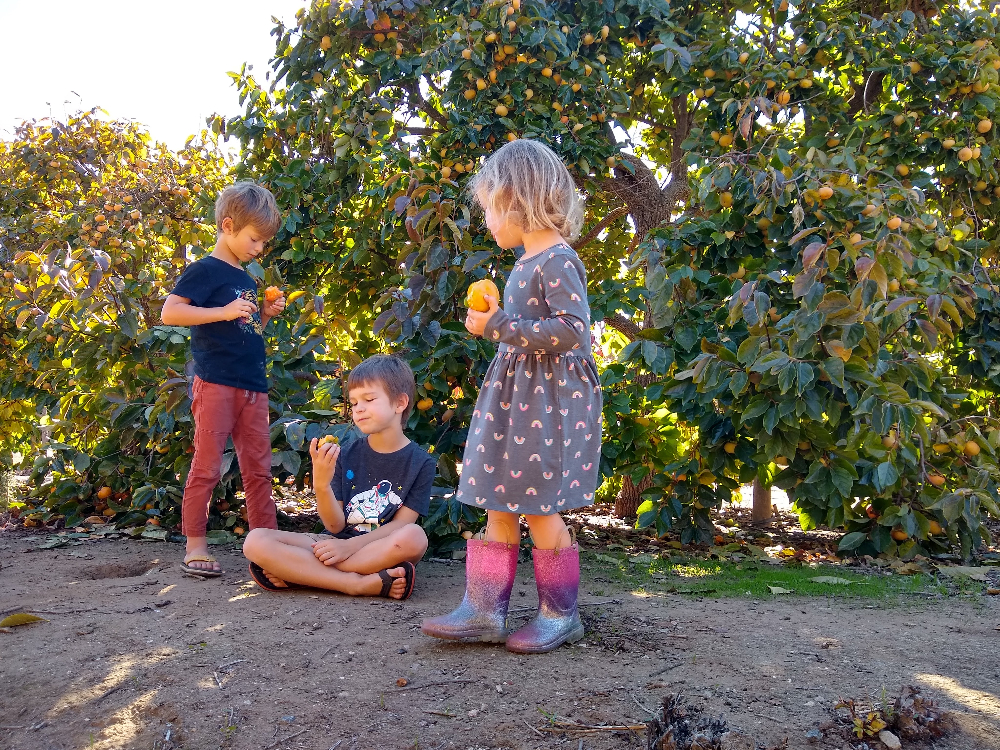 Do note that the Shoemakers grow lots of other fruit, which they have for sale too. There are pomegranates, Valencia oranges, figs, and feijoas (pineapple guavas) in addition to the many varieties of persimmon.
A list with all of my Yard Posts is HERE