Chance had a problem and a rough idea of the solution. Grasses were taking over his family's vegetable garden, especially the pathways. Meanwhile, he was raising rabbits for meat. Rabbits eat grass but they also eat vegetable plants so he needed to build a pen that restricted them to the pathways.
We hopped on the Gator and drove over to the barn to look for scrap wood. Once upon a time, the barn held cattle through the winter, and straw still covers much of the ground, but these days the barn holds scrap wood and lots more. While pulling up pieces of wood to find the right ones for the rabbit pen project, we came across a dusty old periodical: "The Ladies' Home Journal," from 1896.
This property of about 670 acres in the Willamette Valley of Oregon was homesteaded, and the house that Chance, his wife Katie (my wife's childhood friend), and their three children live in is the "new" house, built in 1900.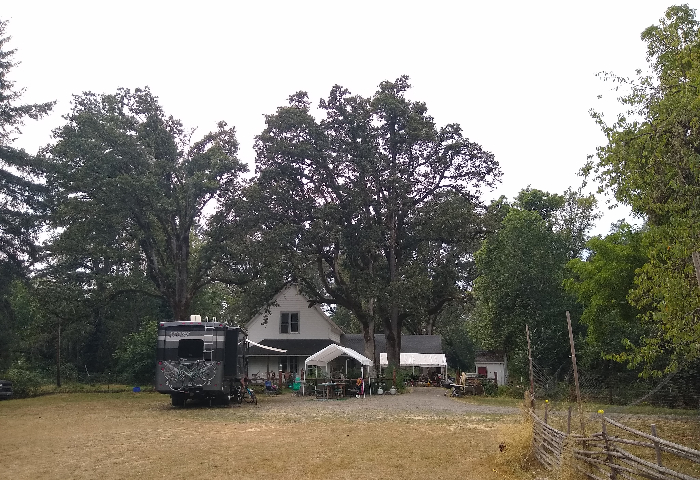 Chance and Katie own another house about a half hour away, but when they saw this place for rent a few years ago they decided to rent out their own house, which itself is on ten acres, and move over. Seeing the place, you understand why.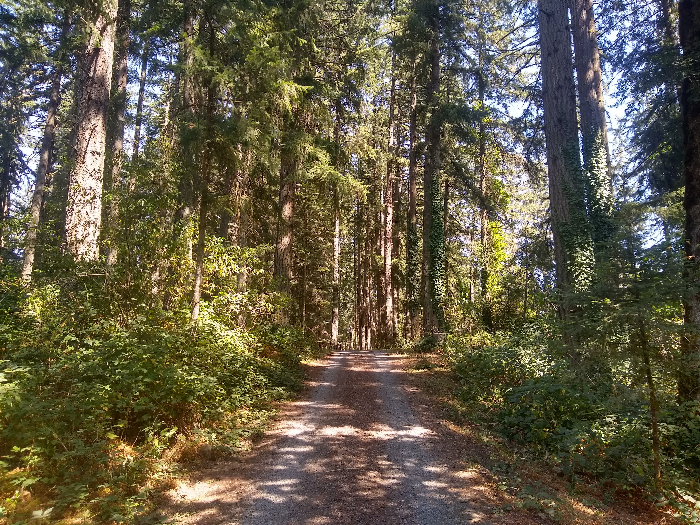 Much of the land is woods, and some of that is leased to a timber company. Some acreage is also leased to a cattle rancher. But all of it is accessible to Chance and Katie. One morning during our stay, we took a trail run of a few miles under Douglas Firs, around blackberries, and across oak savanna — never leaving their property.
White oaks surround the house, are draped with moss, and provided perfect summer shade for the kids to play under.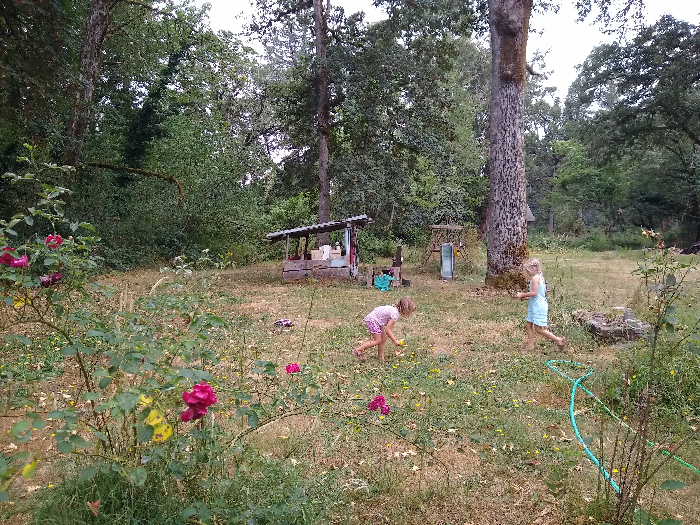 Because they have so much land to use, Katie and Chance keep many of their own animals too. We made carnitas tacos for dinner one night from the hogs they had raised last year. This year there are three goats. The goats take care of themselves, browsing for their own food. They also keep a few dozen chickens, that freely roam and peck, and that follow you around whenever you near them.
But how about getting those rabbits to feed themselves on grasses between the vegetables? We didn't find the wood we needed in the barn, but we did find some in the scraps next to Chance's bandsaw mill. Chance works as a surveyor of timber sales. He knows timber. On this property, the owner allows him to harvest and mill. Recently, all from trees on the property, he built an outdoor classroom for Katie, who is a school teacher and hosts nature lessons there. We hauled the scraps of wood back to the house in the Gator.
Chance cut the scraps to size. Then he had the idea of bending cherry boughs for hoops to form a roof. He led us to a cherry tree and we harvested the branches.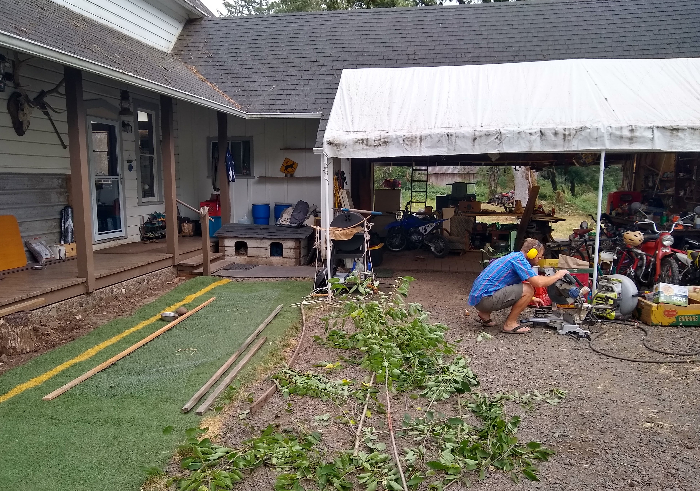 We fastened the scrap wood pieces into a rectangle for a base that was wide enough to fit between the vegetable rows.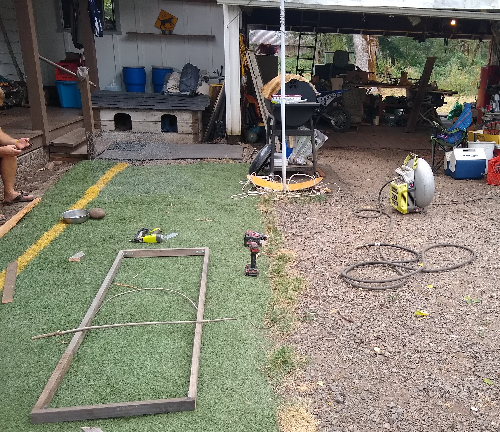 Then we began bending cherry boughs. Once we covered the boughs with poultry wire, we carried it to the garden.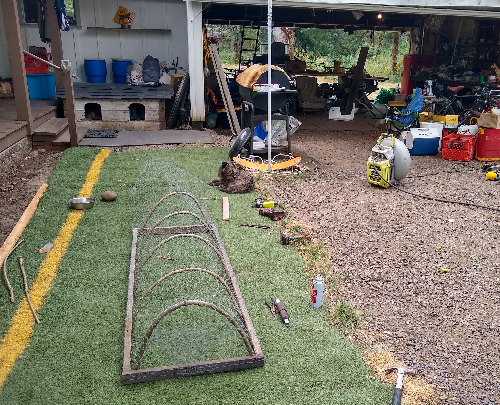 There the kids helped us put the rabbits into the pen.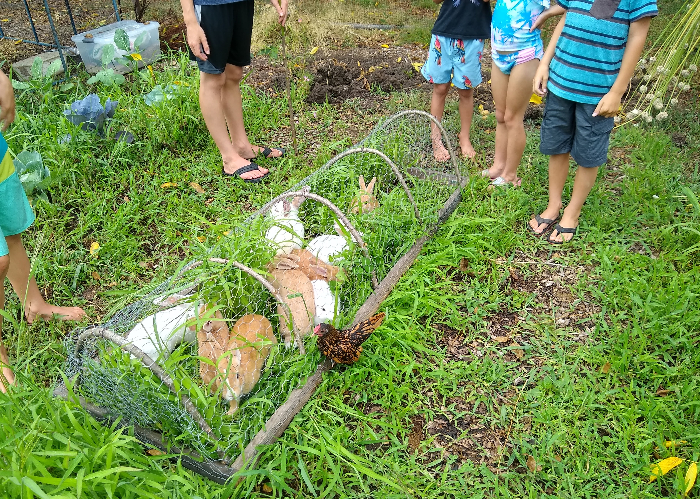 How much grass would they eat by the time we got back from the creek?
We were there at the end of August during a heat wave so we headed over to the creek for a swim. We picked wild blackberries along the way, and wild plums and apples. A creek with a bedrock bottom meanders through their property and makes for an ideal summer cooldown spot and exploration site for the kids.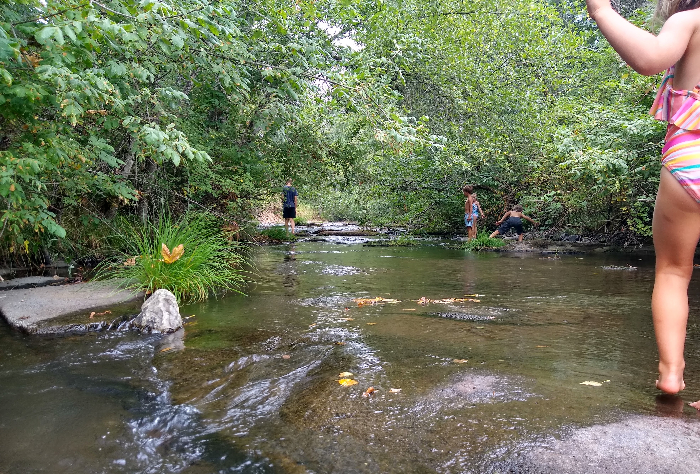 And they have dammed up a little swimming hole on the creek too.
Throughout our stay I had a recurring thought: This is everything you could hope for in a yard. It is what my yard would grow up to be.
Naturally, it's got water, timber, shade, pasture, wild fruits and berries. Through Katie and Chance's work it produces lots of food: abundant vegetables (primarily Katie's domain) and meat from livestock (primarily Chance's domain).
It is a complete yard. I couldn't identify anything that it was lacking, and I felt rich just being surrounded by it all.
By the time we returned from swimming in the creek, the rabbits had eaten about half the grass in the pen, and they looked very satisfied.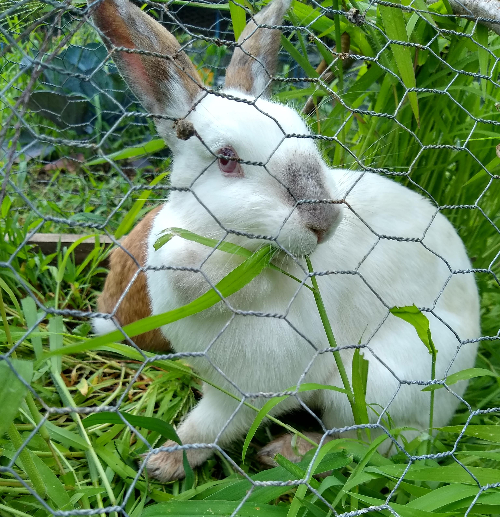 It is beautiful when man collaborates with nature. Both are enhanced.
Thank you, Supporters, for keeping my Yard Posts coming, ad free. Here's how you can support.
All of my Yard Posts are listed HERE