Whenever I feed my chickens or fertilize my vegetables and fruit trees I hear the phrase, "You are what you eat eats."
"You are what you eat" is a phrase we all know, and it means that our bodies consist of whatever we put into them. The lesson is that if we eat junk food, our bodies become junk.
But how about the animals and plants that we eat? Aren't they also made of whatever goes into their mouths and roots?
Blueberries
We gardeners can think of experiences where this has been seen. I grew blueberry plants for a couple years that had yellowish leaves and barely fruited. I was told that these symptoms indicated a lack of iron being taken into the plants' roots because the pH of the soil was too high. Sulfur added to the dirt could solve this, I was told, so I added it. A few years later, my blueberry plants were green and vigorous and full of berries — and iron, apparently.
My blueberry plants hadn't been eating enough iron so their bodies were sickly.
Vegetable seedlings
I've experimented with growing vegetables in many different mediums, from plain dirt to fresh horse manure to bagged potting mixes and composts, and the results tell me that these plants grow variably according to this diet. It's hard to know whether their appearance and performance are due to a lack of certain nutrients or a surfeit, a toxicity, but it's obvious that what they eat becomes what they are made of.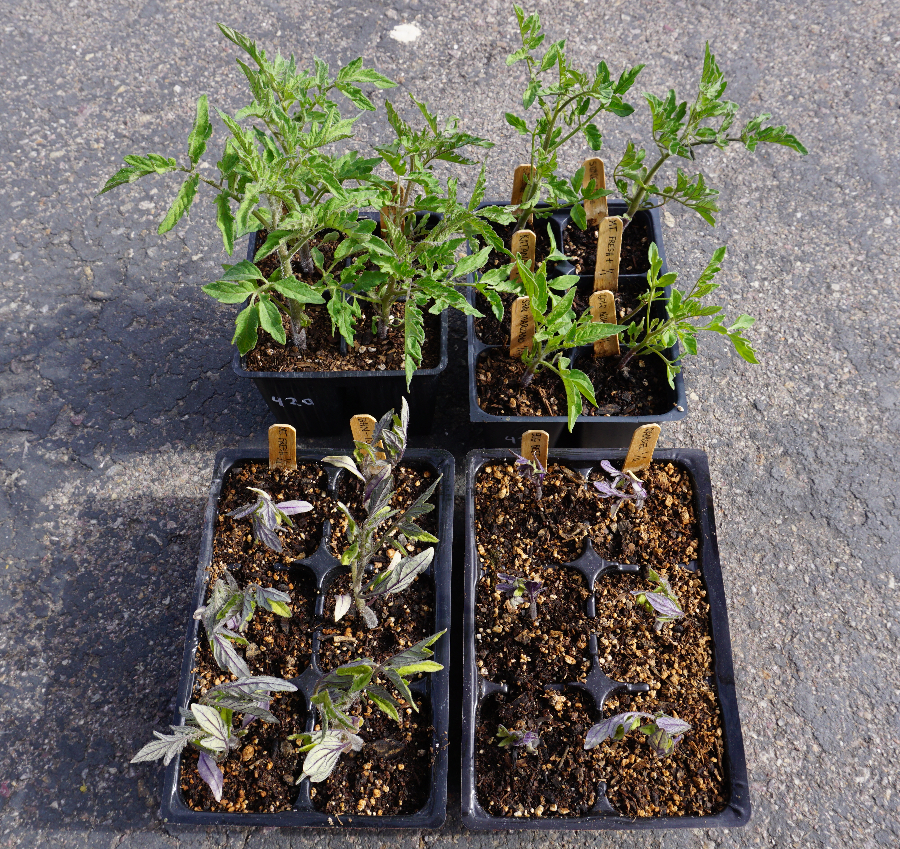 Eggs
I have read a couple of studies comparing eggs coming from chickens that eat different diets. One in Pennsylvania compared the eggs laid by chickens that were fed a commercial feed to the eggs laid by chickens that foraged on a pasture of alfalfa, clover, and other grasses. The eggs were then tested for levels of certain vitamins and fatty acids, and the eggs from pastured hens had higher levels of vitamins A and E, they had more omega-3 fatty acids, and the ratio of omega-6 to omega-3 fatty acids was less than half compared to the hens given only commercial feed.
The chickens laid eggs whose constitution varied based on what the chickens had eaten.
Then you and I come to eat those eggs, and . . . our constitution ends up varying based on which eggs we eat.
If we are what we eat eats
So if it is true that we are what we eat eats, then what? What to do with this knowledge? We want to get an idea of what went into the making of the food we buy, of course. That is very difficult, however, requiring much investigation, as the labels on food purchased in a store tell us almost nothing about what the lettuce was fertilized with or which vaccines the pigs were given.
But as food gardeners we have a lot of control over the portion of our diet that we grow ourselves.
We should pay attention to how we fertilize our plants. Read the ingredients on the label of the fertilizer box. Do you want to be incorporating that stuff into your own body down the line?
What do we spray on our fruit trees? Is that something we want to eat?
The bags of chicken feed we buy: they are not just food for our chickens but also our own food, if we'll be eating the chickens or their eggs. So what is in them? And should we supplement so that our own diet is ultimately more complete?
Thanks for your support, everybody. I enjoy writing these posts and not clogging them up with ads.
All of my Yard Posts are listed HERE