Inside this calendar, you'll find an array of information to help guide the care of an avocado tree throughout the year. For example, I've included this watering table: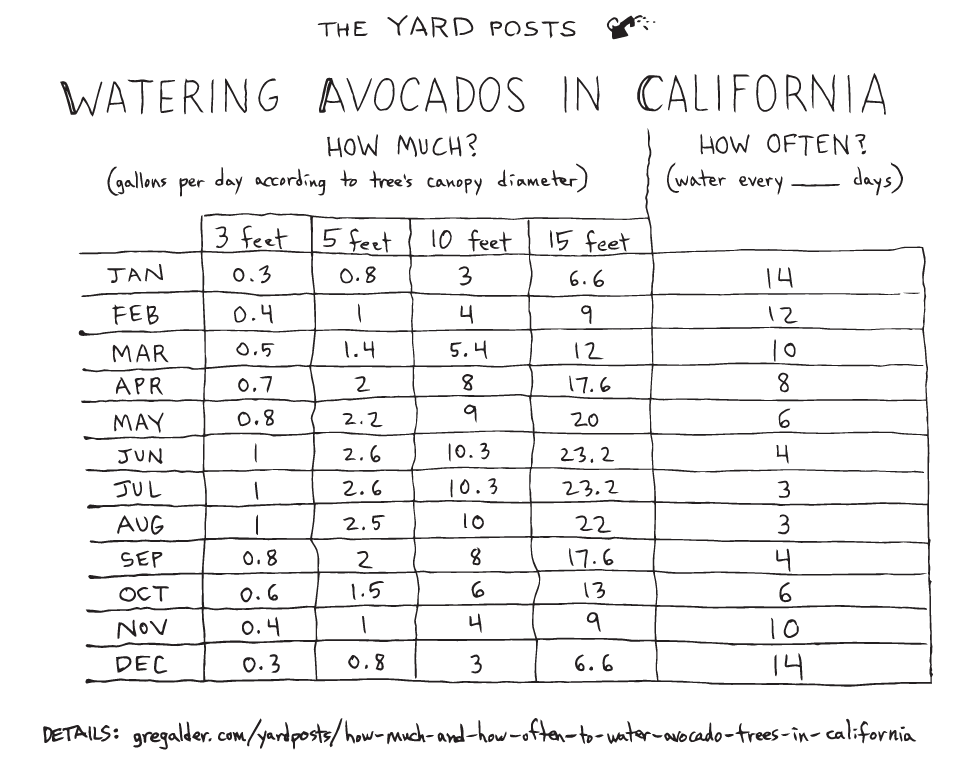 You'll also find a photo for each month that I shot in that month or that reminds me of something related to that month. I took the photos in my own yard, in commercial groves, and even in other countries. April's photo shows the flowers on my Reed tree a few years back: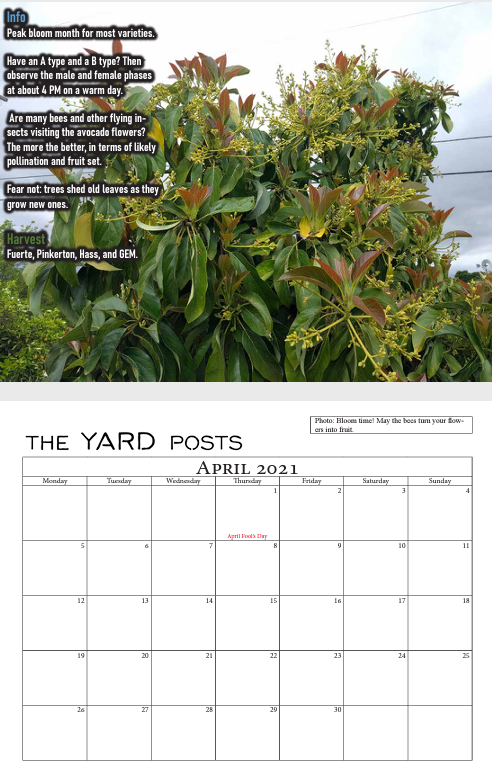 Along with each month's photo is timely information: How are avocado trees behaving at that time? What can we do to care for them in that particular month? Which main varieties can be harvested then? For example, here in December, you can certainly start harvesting Stewart and you might start picking Zutano, Bacon, and Fuerte too: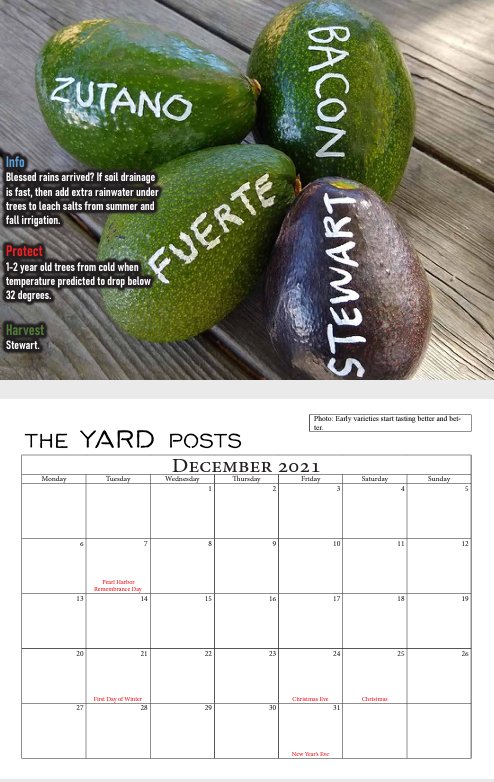 Within the calendar I've also included a watering table for newly planted trees, as well as some space for notes about the year's yields, harvest times, watering schedules, and plantings.
My goal for the avocado calendar
In short, I see the calendar as a right-hand man to an avocado tree growing in your yard. If I were selling you an avocado tree, I would want to sell you this calendar to go with it because the calendar includes basic care information, and it directs you to specific posts on my website for topics that the calendar doesn't have space for.
I believe that someone would have a hard time failing at growing an avocado tree when armed with this calendar.
And I believe that anyone who loves to grow avocado trees — or even eat them — would enjoy and benefit from the calendar's display of photos and information.
Do note that this calendar is, as this website in general is, tailored to Southern California. The information is mostly accurate for other parts of California, but it grows less accurate the farther you get from Southern California.
How I use this calendar
I have made avocado calendars for myself in past years. Personally, I use my avocado calendars to not only be reminded of timely care for my trees but also to note my activities. I like to keep track of my watering schedules and harvest times, when I've planted a tree or when I notice growth or flowering. But that's me. The calendar's squares are blank so you could use them for this or any other purpose.
A few details
The calendar is 8.5 x 11 inches folded and 17 x 22 inches opened. It is saddle stitched and hole punched for hanging on a wall. It is printed in the USA (Minnesota), and the cost is $25 with shipping included. (I'd include an avocado in the envelope too if I could!)
Here is the page with details and ordering steps for the 2021 Avocado Calendar.
All of my Yard Posts are listed HERE