We were on the corner of Arlington and Magnolia in Riverside, looking at some citrus trees surrounded by a wrought-iron fence. It was 2012, I was with a group of Master Gardener trainees, and our guide started telling us the story of one of the trees. The tree was, at the time, 139 years old.
A woman living in Riverside named Eliza Tibbets knew someone at the United States Department of Agriculture in Washington D.C. and convinced him to ship her some orange trees. The trees had been grown in a USDA greenhouse and created from buds of trees imported from Brazil.
Mrs. Tibbets and her husband Luther rode in a horse-drawn, buckboard wagon to Los Angeles to fetch the trees. This was in 1873.
Three trees had been shipped from Washington, but only two survived to be planted on the Tibbets homestead. It is said that Eliza irrigated the young orange trees with dishwater. Soon after they began to fruit, their value became apparent.
"This was a citrus unlike any of the seedy oranges that existed at the time from seedling trees. The navel orange was larger, contained no seed, had a superb sweetness and flavor, peeled easily, had a bright orange color and matured for the winter and spring months especially around Christmas and New Year period," wrote Chester Roistacher, a retired citrus virologist at the University of California, Riverside, about the fruit that came from the new Tibbets orange trees.
Our guide that day was not Roistacher but Gary Bender, a University of California farm advisor (now emeritus). Bender told us that these Tibbets navel orange trees soon became so desirable that the Tibbetses made a nice income selling buds to people who wanted to propagate a tree of their own.
To protect their assets, the Tibbetses erected a barbed wire fence around the trees. (See a photo of this from around the year 1878.)
Over time, the surrounding community of Riverside was enriched through growing vast groves of these new Washington navel orange trees, so named because they came from Brazil via the USDA in Washington, D.C. You could say that the city of Riverside was grown by selling Washington navel oranges. Riverside became the center of citrus growing in California, with the University of California's Citrus Experiment Station being established there in 1907.
Did you grow up in Southern California like I did? Do you have the same memories as I do of eating Washington navel oranges throughout your youth? My grandparents had two of the trees in their yard in Glendora. And I recall picking navel oranges from the remnant groves throughout town when I was a kid in the 1980s and early 90s.
I liked navel oranges so much that in high school I ate seven in one day, which ended with some time on the toilet.
They were just oranges back then though. I had no idea why they were called Washington navels let alone the fact that their center of commercial origin was in nearby Riverside.
But there I was in 2012 looking at the oldest Washington navel orange tree in the world. Gary Bender pointed to the trunk of the tree. The base of the trunk had what looked like flying buttress supports.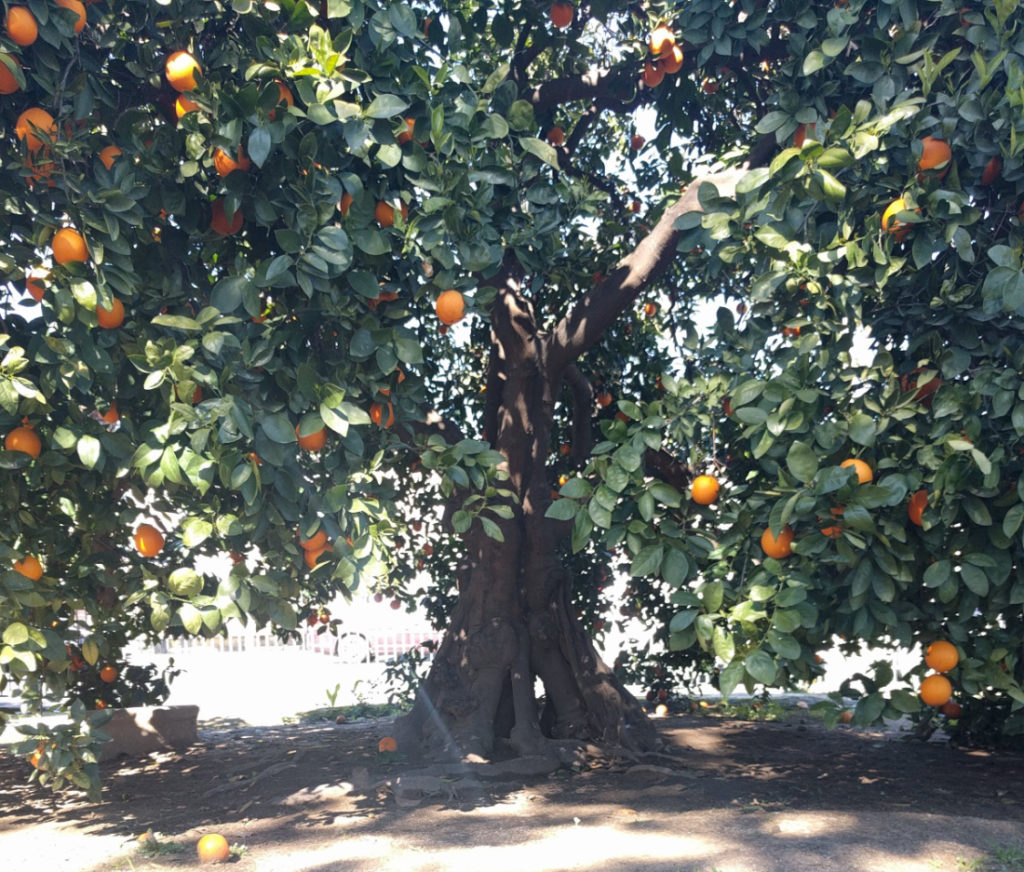 Bender explained that the tree was still alive because grafts had been attached to the trunk through a method called inarching. I later learned the details, which were that a disease called gummosis had attacked this tree and its sister tree, killing its sister tree in 1922. So before this tree succumbed, citrus experts attempted to save it by grafting onto it a variety of new rootstocks — "seedlings of sweet orange, rough lemon and sour orange" — the hope being that at least some of the new rootstocks would be resistant to the gummosis disease that is caused by Phytophthora fungi.
The inarch grafting worked, to a point. "In 1951, it was noted that some of the original inarches showed lesions of Phytophthora. Therefore, in that same year, a second inarching was done using three seedlings of Troyer citrange and one of trifoliate orange." The Parent Washington Navel orange tree was saved again in this way, so wrote Roistacher.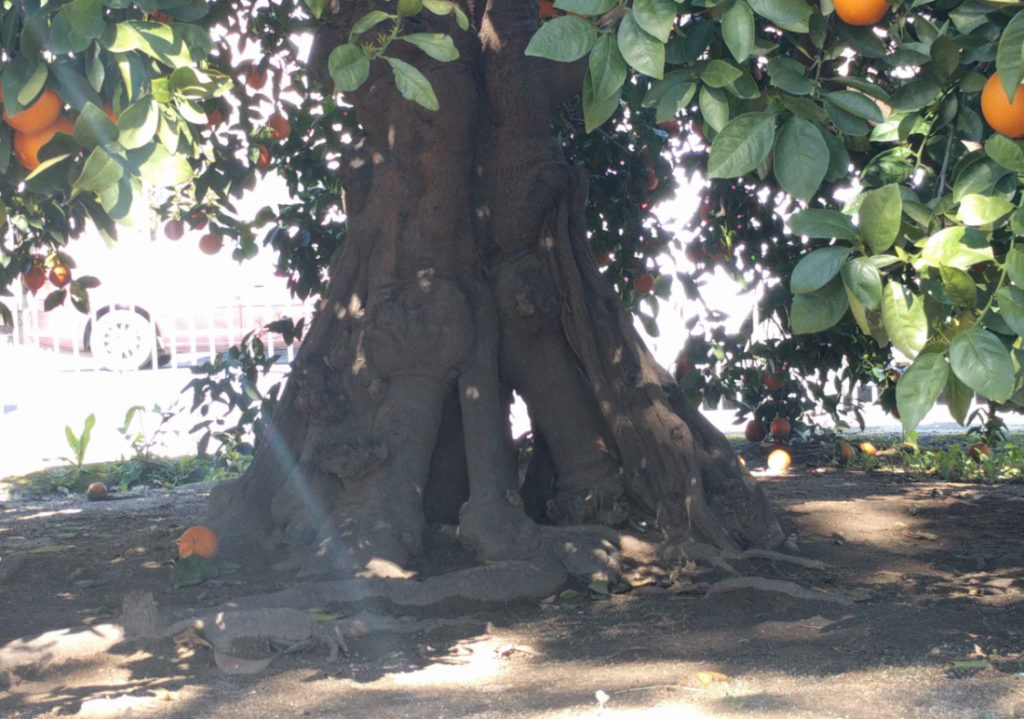 About two years ago, in February 2019, I visited the Parent Washington Navel orange tree again. I was by myself this time. I just wanted to see how she was doing.
The intersection of Arlington and Magnolia is a busy one. There are apartments on one side, a 7-Eleven and a Baskin Robbins on another. Cars zoomed past and I wondered how many of their drivers knew why there were citrus trees behind a fence here.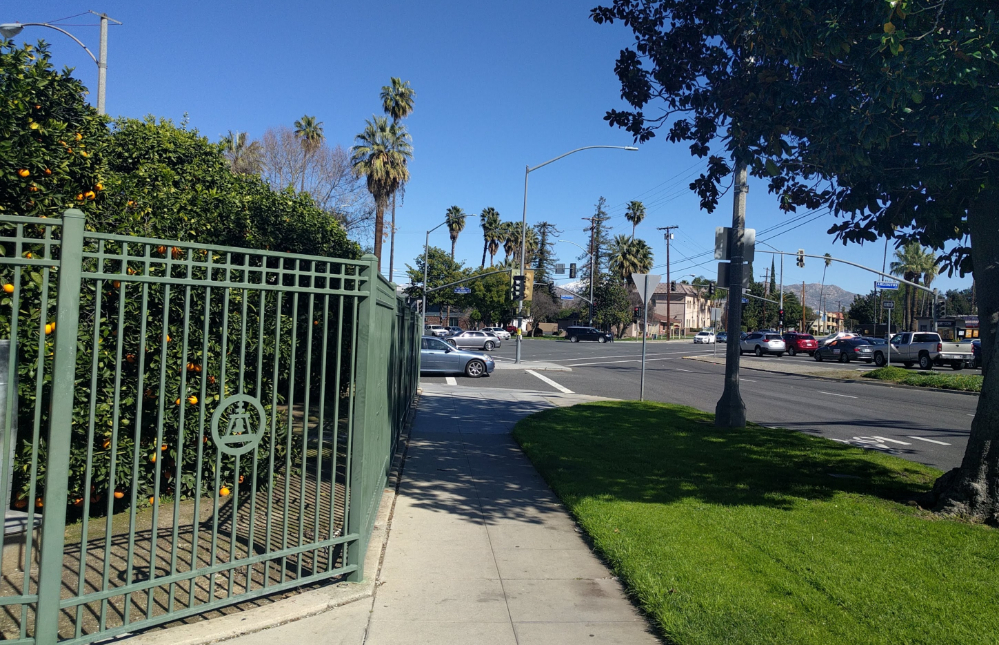 I came expecting there to be some kind of protection over the trees but found none.
There's yet another disease in town, don't you know? It goes by a few names: citrus greening, huanglongbing, or most commonly HLB. The disease is caused by a bacterium that is spread by a tiny insect called the Asian citrus psyllid, or ACP. This insect feeds on citrus leaves, and if it is carrying the bacteria then the bacteria can enter into the citrus tree. There is no cure for the HLB disease; infected trees decline in health and die.
(More about ACP and HLB here and here.)
So I expected there to be some kind of tent over the Parent Washington Navel orange tree to protect it from the Asian citrus psyllids. These insects are now all over Southern California. An inspector with the California Department of Food and Agriculture visited my yard in San Diego County a handful of years ago and showed them to me on the leaves of my own citrus trees. (They're so small that you'd never notice them unless you knew what you were looking for.)
Moreover, citrus trees infected with the HLB disease had already been found in Riverside starting back in 2017. 
Here I was two years later, in 2019, at this tree designated Historical Landmark Number 20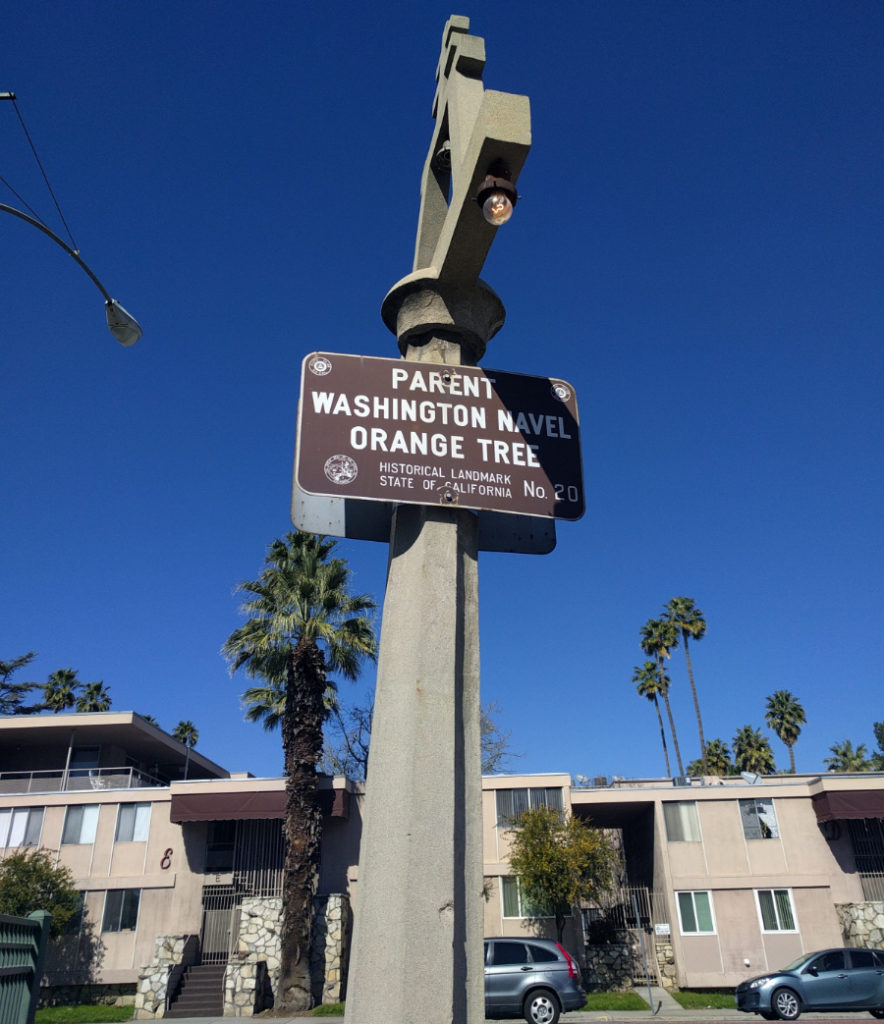 . . . at this tree called the "most valuable fruit introduction yet made by the USDA"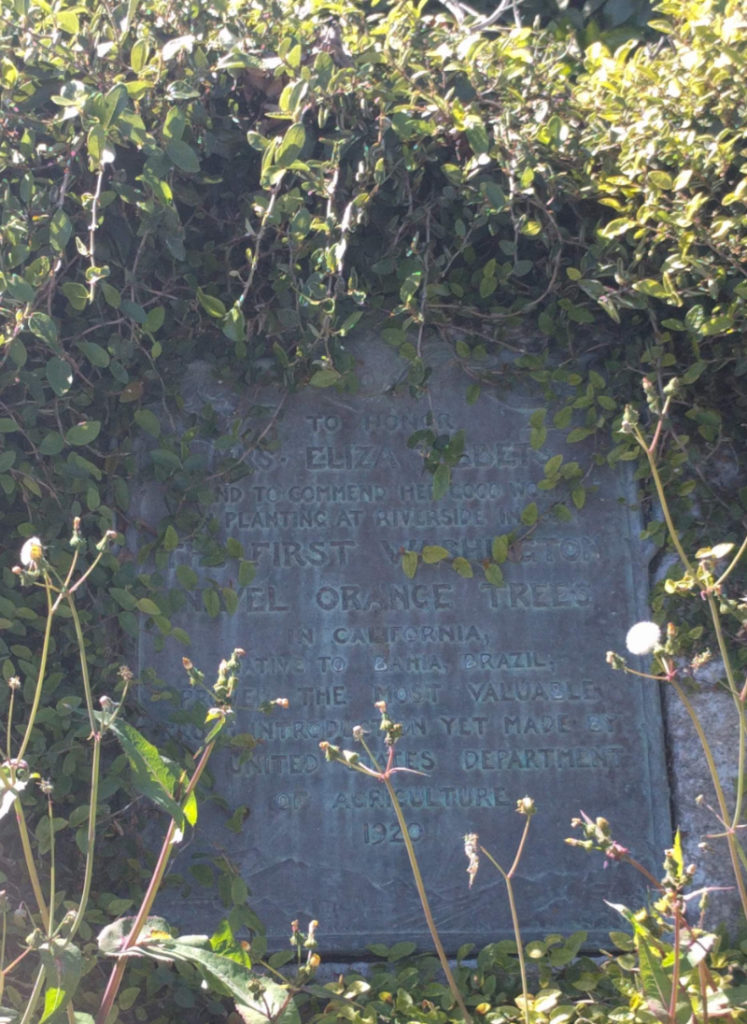 . . . and it was being left to its own defenses — against a fatal, incurable disease that is known to be floating around the neighborhood?
A few months later the protection appeared. In April of 2019, up went a white tent over the tree. Then in June, a stronger structure was erected.
I hope the protective structure works. That is, I hope that the efforts of humans to save this tree once again works. (Many other methods of fighting HLB besides protective structures are also being researched and used, by the way.)
Regardless, I came home with the desire to possess my own piece of this tree and part of this history. So I ordered a few budsticks of the Parent Washington Navel orange from the Citrus Clonal Protection Program.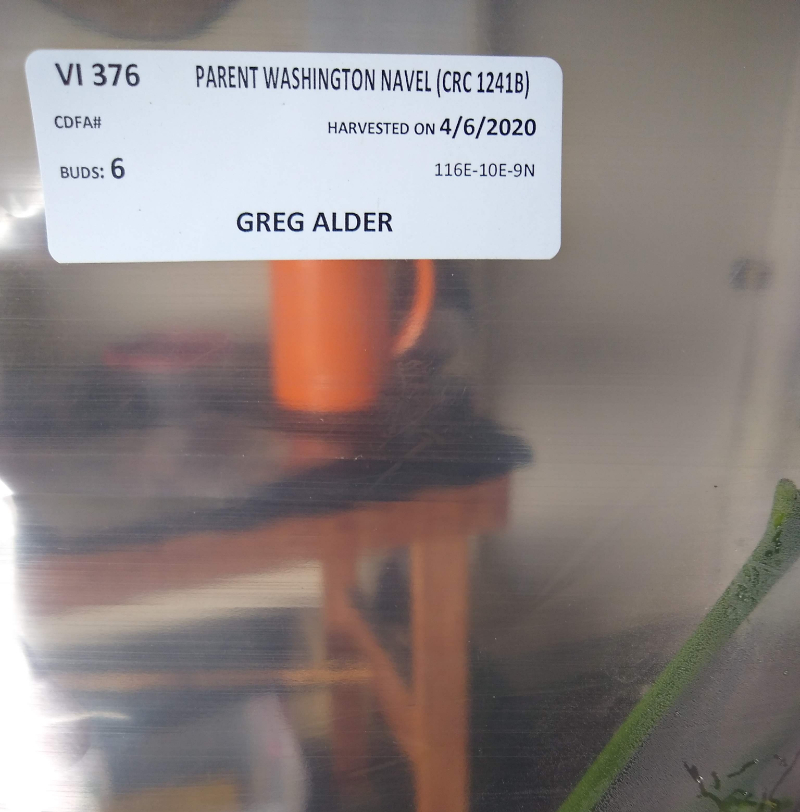 And I grafted them onto some other types of orange trees in my yard.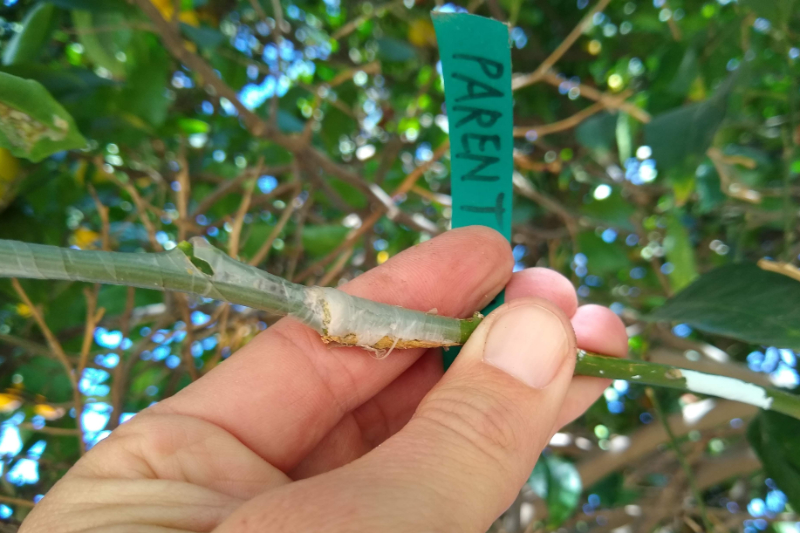 Check out this slideshow of the history of the Parent Washington Navel orange tree made by Chester Roistacher.
Incidentally, Roistacher did work to create the "Improved" Meyer lemon. Frank Meyer introduced this tree to America about a century ago. Check out my post, "Meet Frank Meyer, of the Meyer Lemon."
All of my Yard Posts are listed HERE