You are invited to the biggest shindig of the year for California avocado growers, which will be held on Saturday, October 14 at Brokaw's Long Canyon Ranch in Ventura. It is the California Avocado Society's 2023 Annual Meeting.
A day of connecting with fellow avocado growers from up and down the state and around the world, touring the innovative Brokaw Long Canyon Ranch, and learning from experts in all aspects of avocado growing, presentations will include:
Girdling & Pruning
Nathan Lurie, Brokaw Ranch
Samuel Garibay, Brokaw Nursery

Irrigation Scheduling
Ryan Giacolone, Phytech

Growing Hass Avocados for High Productivity
Matias Purcell, Brokaw Nursery

A Practical Approach to Avocado Rootstock Field Trials
Kamille Garcia-Brucher, Brokaw Nursery

What Does Your Grove Need?
Gerardo Aldunate, Index Fresh

On the Record: Soil & Water
Ben Faber, University of California Cooperative Extension
Arnon Dag, Volcani Agriculture Institute, Israel
These practical, in-field seminars will be followed by a barbeque lunch and awards ceremony. Each year, the California Avocado Society honors a select few growers and researchers for their outstanding work.
While this event is oriented toward avocado farmers, it is open to anyone interested in avocados. I am not a farmer myself, but I will be there, and I have found all of the previous CAS Annual Meetings that I've attended very valuable in terms of the friendly people I've met and the improvement in my trees after implementing what I'd learned.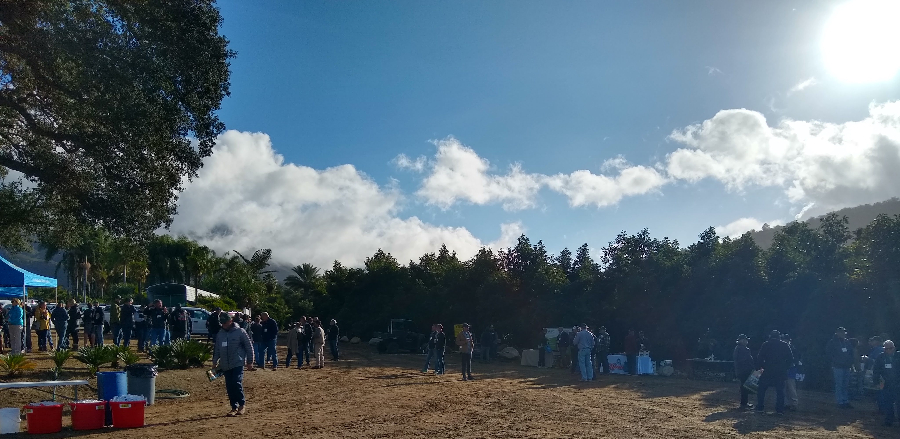 Members of the Society and non-members alike are welcome.
The California Avocado Society is the oldest avocado organization in the world. Since its start in Los Angeles in 1915, CAS has been helping avocado growers through various publications, seminars, field days, foreign exploration trips, variety recommendations, scientific research, and much more.
Brokaw Nursery and Ranch may not be quite as old as CAS but it is also known around the globe for its service to avocado growers. Brokaw's Long Canyon Ranch is adjacent to the nursery and informs the nursery's operations through testing growing methods such as berm and high-density planting, drip irrigation, pruning techniques and girdling, as well as new scion varieties and rootstocks.
The 2023 Annual Meeting of the California Avocado Society is an event that no avocado grower within reach should miss, but space is limited so if you're interested, register as soon as possible.
See here for meeting and registration details.
And if you make it, please find me and introduce yourself if we don't already know each other.