I suspected that when I pointed out to my son Cass that the Kishu mandarins were ready, it would be a whirlwind of peeling and chewing that wouldn't stop until the tree was bare, and I was right. The photo above shows Cass on December 3rd with the final fruit. He ate his first one on Halloween, when the tiny tree had 81 pieces of fruit on it. Every single day I had to stop Cass and his little brother Miles from picking and eating another and another and yet another. They weren't even anywhere near prime flavor yet.
Kishu, Seedless Kishu, Kishu Mini — however it's called, this little mandarin tree was built by God as the perfect natural snack for children. The fruit is the size of a golf ball; a child can grasp and pull it from the tree. The peel comes off readily; Cass peeled them all himself (Miles had a tendency to get distracted by chewing on the peel, but he's barely a year old). The fruit is seedless and the sections easily come apart. Oh yeah, and the taste: "It's a burst of tangy sugar!" I wrote in my notes the first time I ate one.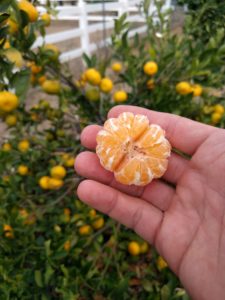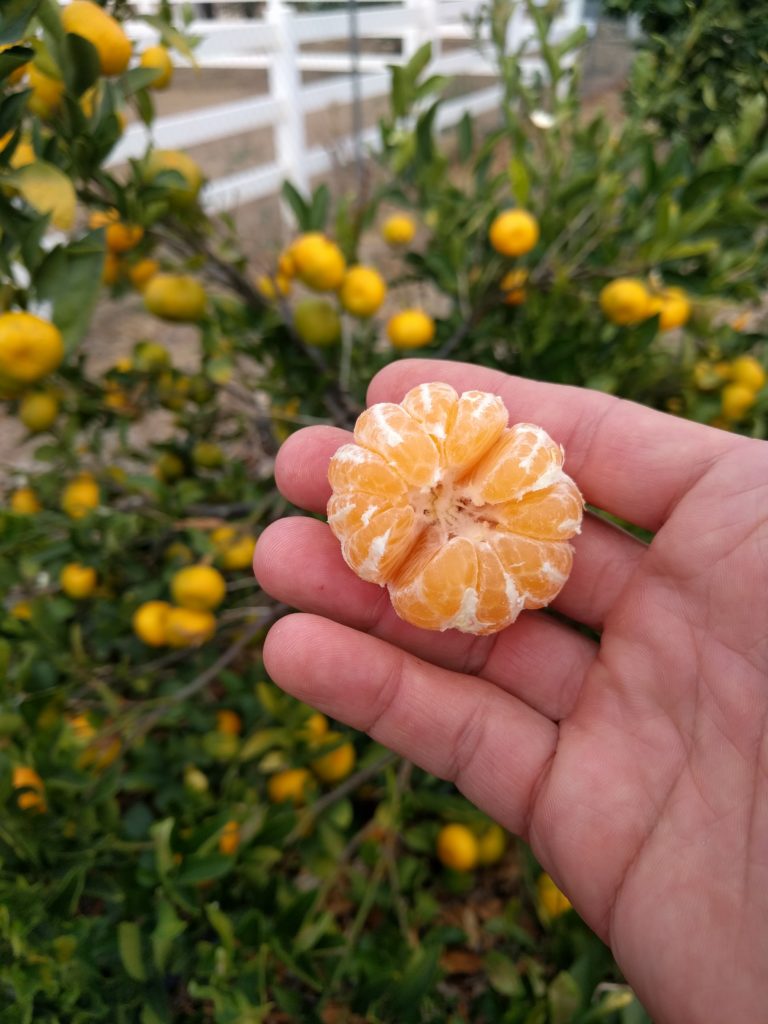 Unfortunately, you've probably never tasted one nor will you unless you plant your own tree. For commercial farmers, the fruit is too small and hard to pick such that it's not profitable.
If you do have your own tree, they'll likely taste good enough to eat from November through March. Watch 36:55 to 39:50 of this video taken in early March, 2012, at the UC Riverside Citrus Variety Collection to hear some details about the Kishu as told by citrus expert Ottillia Bier, as well as to see some of us old kids experiencing the fruit for the first time. This is the moment when I determined that I would buy a Kishu tree for my yard.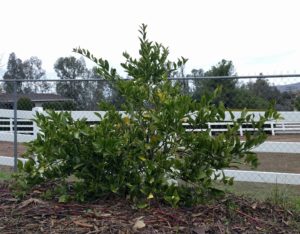 This is my Kishu tree today. It was planted in January of 2015. It flowered that spring, but didn't hold fruit. It flowered again in the spring of this year and set the fruit that we just finished eating. For a tree that has been in the ground a bit shy of two years to hold 81 fruits is not shabby. It's only about three feet tall. I have done nothing special in my care for it: I planted it in full sun; I gave it water every four days during the summer; it has a layer of woodchip mulch under its canopy; I have never fertilized it.
Update: One year later (2017) the tree has a couple hundred fruits: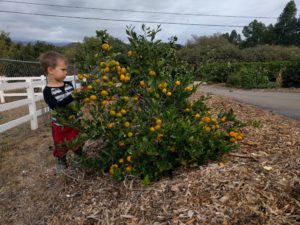 We've got a wide selection of other fruit trees in the yard, and the boys enjoy them all — plums, pluots, apricots, peaches, nectarines, oranges, pomegranates. But the way they got obsessed with the Kishus . . .
Kishu, the best fruit tree for kids, the best fruit tree for the kid in all of us.
Update: Here in 2022, we now have two Kishu trees because we now have three children, and one Kishu tree simply couldn't satisfy them. Kishu remains the kids' favorite fruit tree in our whole yard.
(Want to buy a Kishu tree? They can be found at any good nursery in Southern California. They can also be mail ordered from Four Winds Growers in Northern California.)
All of my Yard Posts are listed HERE