The most common question we got this weekend at the "Ask a Master Gardener" table was, "What can I plant right now?" The event was the Fall Festival at Point Loma Nazarene University. Usually while asking, the person was looking at the broccoli seedlings I'd placed on the table.
So I'd answer, "Broccoli!"
My co-volunteers would say, "Here's a great guide to which vegetables to plant in our area now." Then they'd hand out a copy of Vince Lazaneo's "Vegetable Garden Planting Guide for San Diego County." (Click this link to check it out.)
I've written before about how much I like Lazaneo's guide, as it is perfectly reliable and applicable to all of Southern California. It has a handy reference page called "Recommended Planting Dates."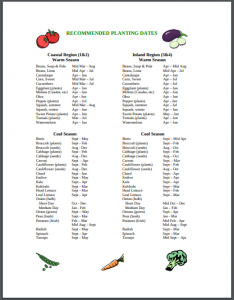 Nevertheless, there are a couple of other handy references available online to help answer the question of which vegetables to plant at any given time in Southern California.
Monthly Vegetable Planting Guide by Grangetto's
Grangetto's is a farm and garden supply store in Southern California, and they've made available a single page calendar they're calling "Vegetable Planting Guide."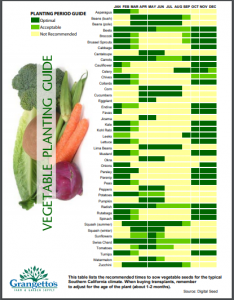 It's colorful, it's pretty. It's arranged so you can easily find specific vegetables or specific months. For each month, it shows whether it is optimal, acceptable, or not recommended to sow each vegetable. And that's one important thing to keep in mind about this guide: it's showing sowing dates, not planting dates. In other words, this is when you should sow seeds of each vegetable; however, if you are planting seedlings, then add a month or two to the time period shown.
My single quibble with this guide is that it fails to show the potato-growing period of late summer through fall. I always get fine harvests sowing potatoes around late August or early September and harvesting around December.
Vegetable Planting Guide by Robert Norris
Showing harvest times is something that this guide made by Robert Norris shows but the preceding two don't. Norris's "Vegetable Planting Guide" has this advantage over the other two guides: being more detailed. In addition to showing harvest times, it also shows preferred times to direct seed (sow seeds in the soil of the vegetable garden) versus transplant.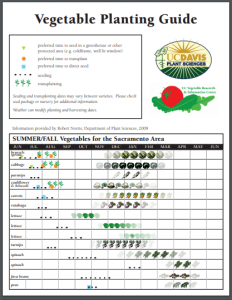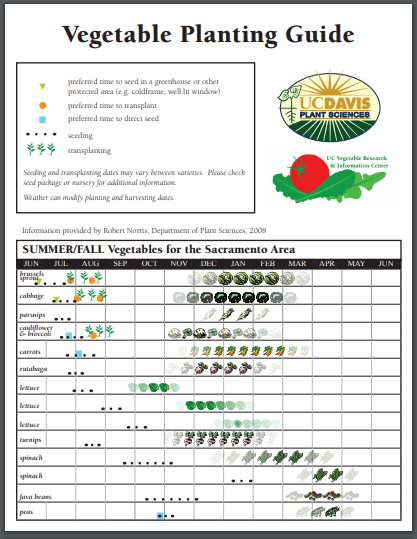 Because this guide splits the gardening year into Winter/Spring vegetables and Summer/Fall vegetables it is actually two pages long.
But wait, did you notice that it says it is written for the Sacramento area? Yes yes. Yet it is accurate enough for down south here. In fact, I only find a single recommendation that wouldn't work for us, which is the onion and garlic times. We do better with those when sown or planted earlier. He shows onions sown in December (I've always sown mine successfully starting in October) and garlic planted in January (I've always planted mine successfully in October or November).
We also have some expanded planting windows here in the southern part of California since our winters are warmer, such as being able to sow carrots much later than only August (I don't sow carrots until mid-September at the earliest, and I continue sowing carrots through winter and into spring).
My own monthly vegetable planting and sowing guides
Well, don't I have an opinion about when it's best to plant vegetables? Why don't I make my own guide? Indeed I do have a post for each month that includes which vegetables to sow or plant here in Southern California. You might find them useful. Here are the links to each month:
A paper calendar with vegetable planting and sowing dates for Southern California
Finally, you might appreciate having a physical calendar that is easy to refer to. I've been making these for myself for years, and now I've made extras for you.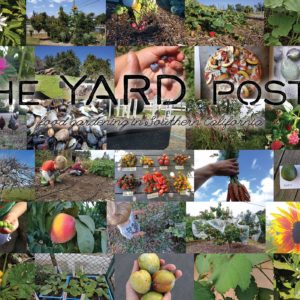 Click here to see more about my calendar for food gardeners in Southern California.
You might also like to read my posts: