November is cool. The barometer falls to an average high of 73 this month, in my yard, which is about the same as most yards in Southern California. And the average daily evapotranspiration rate is only 0.08 inches in November, a threefold decrease compared to the height of summer. (The evapotranspiration rate is a measurement of how much water plants use.)
November is cool. You can still be harvesting tomatoes while also bringing in first heads of broccoli from the garden. You can eat the last apples and also eat your first mandarins. November is a strange and unique period of overlapping harvests.
November is cool. You barely have to water. Finally, after our long dry summer which revolves around irrigation, you get to stroll through the garden and watch the plants grow with little and infrequent need of your help. I love that.
November is digging up sweet potatoes. November is sowing more carrots. November is making the first fire in the fireplace. November is planting garlic. November is rediscovering your socks and sweatshirts. November is oranges turning orange. November is sprinkling California poppy seeds as the first rains fall. November is cleaning rain gutters and screens on rain tanks. November is remembering how long shadows can get. November is grape leaves falling. November is Thanksgiving.
In Southern California in November, we can also:
Sow and plant:
– Beets, broccoli, brussels sprouts, cabbage, carrots, cauliflower, cilantro, garlic, greens (chard, collards, kale, mustard), kohlrabi, lettuce, onion, parsley, parsnips, peas, radish, spinach, turnips
Harvest and eat:
– Vegetables: sweet potatoes, tomatoes, tomatillos, beets, peppers, squash, basil, beans, corn, greens, lettuce, broccoli, cauliflower
– Fruits: passion fruit, apples (Pink Lady, Granny Smith), persimmons, pomegranates, mandarins (Kishu, Satsuma), avocados (Bacon, Fuerte)
Miscellaneous
Have you turned off automatic irrigation? This time of year, I water everything manually since plants need water much less frequently and there is intermittent rain — or at least clouds. My vegetables get water every five to ten days; avocados and citrus get water once every ten to fourteen days. I watered my deciduous fruit trees at the beginning of the month, and I may not need to water them again for the rest of the year. We'll see.
Not that my irrigation frequencies will be the same as yours, but the trajectory will be: far less often than in summer, and at unpredictable times because storms begin to reach us here in November.
One last thing: Peanuts! In 2017, we tried growing them for the first time, and it was in November that we harvested them. The boys shelled and ate them raw as soon as we pulled them up. My wife and I roasted ours. I never imagined the common peanut could be so aromatic and flavorful.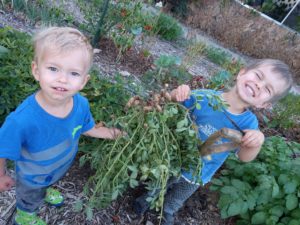 November is so cool.
You might also like to read:
All posts about "What to do in a Southern California garden" in each month