(Note: Farm address, advice, and update for 2018 are below this original post.)
While working in the yard yesterday, an Asian woman with a heavy accent stopped her car and asked if I knew where Shoemaker Farm was. I'd never heard of it, I said.
"There are persimmons," she said.
"Aah! It's just down the street." I pointed.
There's a u-pick persimmon orchard two blocks from our house, only I hadn't known the name.
This morning, I loaded up my two sons and drove the truck down the street. For $20, we got to fill up a five-gallon bucket.
Cass helped picked some low-hanging fruit.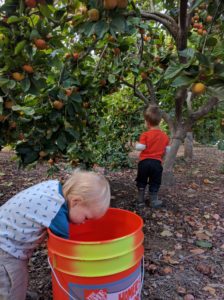 Miles seemed to think that it was his job to take the fruit back out of the bucket and toss it on the ground.
There were two older women picking to the east of us and three Asian families picking to the west of us. These were Fuyu persimmons. They come from Japan. It made sense that the people most interested in picking a bucket of persimmons were immigrants from Asia.
But I didn't fill my bucket to the rim.
During the picking, we took a break and ate a couple. Also, and more importantly, a couple days earlier while taking a jog near the persimmon orchard, I had picked a couple because I wanted to see if they were ripe. I had known that I would come pay for a bucket soon — that was how I justified the "theft."
When we were done picking, Cass, Miles and I brought our bucket back to show Mrs. Shoemaker.
"You didn't quite fill it up," she said.
"I know. We ate a couple while we were down there picking."
"Well, I'm going to fill it up for you," she said, and she fetched a nearby plastic bag of persimmons.
I felt guilty, but I didn't say anything, and then Mrs. Shoemaker made me feel guiltier.
"Ed caught a woman trying to steal these the other day, so let me put them in your bucket."
If you want to pick persimmons
The season starts in late October and ends in mid- to late-November. Here is the address of Shoemaker Farm: 18131 Traylor Road, Ramona, (San Diego County), California 92065. See their phone number and email on this card: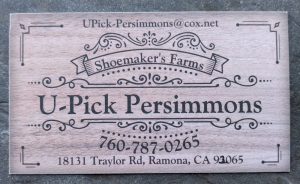 If you're interested in hiking or picnicking nearby during your trip, try the Ramona Grasslands Preserve. Mount Woodson is also close.
If you like wine, there are numerous small vineyards and wineries close by that you might like to visit while you're in the neighborhood. I can walk to a handful from my house alone. Wineries include Kohill, Principe di Tricase, and Woof 'n Rose.
Just put the Shoemaker Farm address into an online map and you should see the options.
As for actually picking the persimmons, it's best if you have hand pruners with which to clip the stems. Persimmons don't pull off the tree so easily.
Early in the season, you can find plenty of fruit to pick by hand while standing on the ground. However, if you're there later than about November 10, consider bringing a pole picker or step ladder. Much of the fruit left on the trees will be in the upper part of the canopy.
Update 2018:
Barely made it this year. Picked on the last day of the season, November 17. We are so grateful that the Shoemakers continue to allow the public to pick persimmons on their farm. It's a unique offering in Southern California, the fruit tastes better than any I've had anywhere else.
A five-gallon bucket now costs $25.
I still feel guilty, and even this year I didn't totally fill my bucket.
You might also like to read my posts: