We don't normally shop at Whole Foods Market, but once each year I make a visit in order to buy these California-grown mangos. Last year, I bought some in October; this year I decided I'd stop by in September just to check and . . . I bought these three.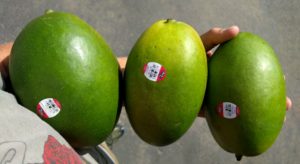 Should I choke at the price: 3 for $10? You can get Mexican mangos for $1 a piece, right? Yeah, well, these California mangos are bigger, for one thing. This year they're actually not as big as those I bought last year. This is my son with one of last year's (2016):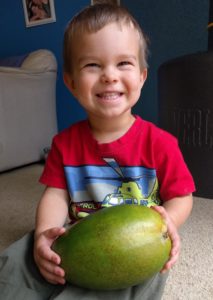 My sons go wild for mangos. They attack them like buzzards on a carcass. And due to the lack of fiber on these California Keitts, they were able to gnaw so much flesh off the seed the other day that it was this clean when they were finished: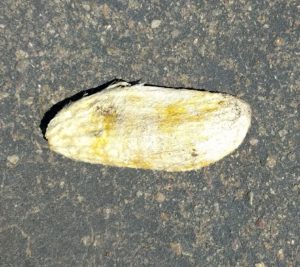 The Keitt variety originated in Florida, but these mangos were grown in the desert of Southern California — an area called the Coachella Valley — not far from Palm Springs. I appreciate the Keitt variety in particular because they are delicious sweet or tart. I like my mangos sweet, so I let them soften and sweeten up before I eat them, but my wife likes her mangos tart, so she cuts the Keitts up while still firm. Either way, Keitt mangos almost always have a mostly green skin color. Whether soft or firm, sweet or tart, they rarely get as orange, pink, red, or yellow as some other mango varieties.
If you can't get to the Whole Foods Market in Del Mar where I bought mine, where can you get some of these California Keitts? In the past, I've bought them at other Whole Foods Markets, as well as at Trader Joe's. I do hear that they're also available at the Santa Monica farmers market although I've never been. (Update: Sprouts has been stocking them in mid and late October, 2017, and for as low a price as $1.50 each.) The thing to keep in mind is that the season for these California Keitt mangos is now, so don't bother looking for them much outside of September and October.
But wait, we can grow mangos in California? Indeed, they seem like an exotic fruit, but people in Southern California have been growing them for a very long time. A man named L.L. Bucklew was trialling dozens of mango varieties in Encinitas back in the 1930s, for example. (Read my post about the Bucklew mango trees here.)
The first large planting in the Coachella Valley was made in the 1980s. Here is a video about one of the mango farms, Wong Farms, in the Southern California desert.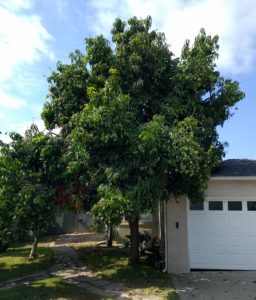 But I've seen beautiful and fruit-laden mango trees of at least twenty feet in height (which suggests they're decades old) in many parts of Southern California. The one in the photo above was in the yard of my neighbor in the Hillcrest part of San Diego. I've seen a beautiful mango tree in Tustin, Orange County. Some friends in Vista, North San Diego County, have multiple verdant and well-maintained old mango trees on their property and, I have to add, they've been kind enough to share a lot of delicious fruit with us over the years.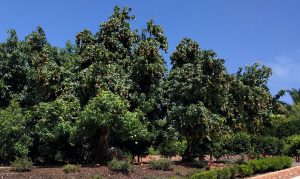 Once you get an eye for what a mango tree looks like, you might find yourself spotting them in yards in your neighborhood. I grew up in Los Angeles County, where this mango tree was growing in the side yard of a house across the street from my junior high school: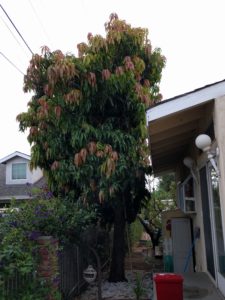 Only I had never "seen" it until this year. Today, I knocked on the door of the house to ask if I could take this picture. An elderly woman came to the door. "Sure, take a picture. Usually it has a lot of fruit. Big red ones — they're really good — but this year it didn't have many. We've already eaten them all."
"Can I ask what variety it is, if you know. Or did you plant a seed?"
"We brought a mango back from Hawaii a long time ago and planted the seed."
If you live in Southern California and you like eating mangos, then why not plant one in your yard too? I've got a couple of baby mango trees going in mine. Until they start bearing fruit, though, I'll continue looking forward to this time of year when the Keitts from the California desert arrive in stores. I might also have to knock on that door by my junior high again next year, around August instead of September.
Looking for tips on growing mangos in Southern California? Read the robust discussion on the topic here at the Tropical Fruit Forum.
All of my Yard Posts are listed HERE