I didn't much like cucumbers until I grew 'Green Finger.' I didn't love to eat them, and I was frustrated while growing them.
From my garden, too often they were bitter, and I never could figure out how to consistently prevent that. Insufficient or uneven watering wasn't the problem, as some suggested. The weather conditions didn't seem to correlate with bitterness either. At last I realized that the key to growing the consistently crisp and sweet cucumbers that I desired was growing the right variety.
'Green Finger' cucumber variety
'Green Finger' was bred by Margaret Jahn and George Moriarity at Cornell University in Ithaca, New York. Nevertheless, the variety grows wonderfully in our drier and hotter climate of Southern California.
In addition to never being bitter, what I like about 'Green Finger' is that its skin is thin, tender, and smooth. Some cucumber varieties are so spiny that you want gloves when harvesting, and then the skin is so thick that you want to peel them before eating. Not 'Green Finger,' which are perfectly suited for picking and snacking on right in the garden next to the plant.
'Green Finger' can also be harvested when the cukes are the actual size of your finger up to the size of a Cavendish banana, and they taste great at either extreme.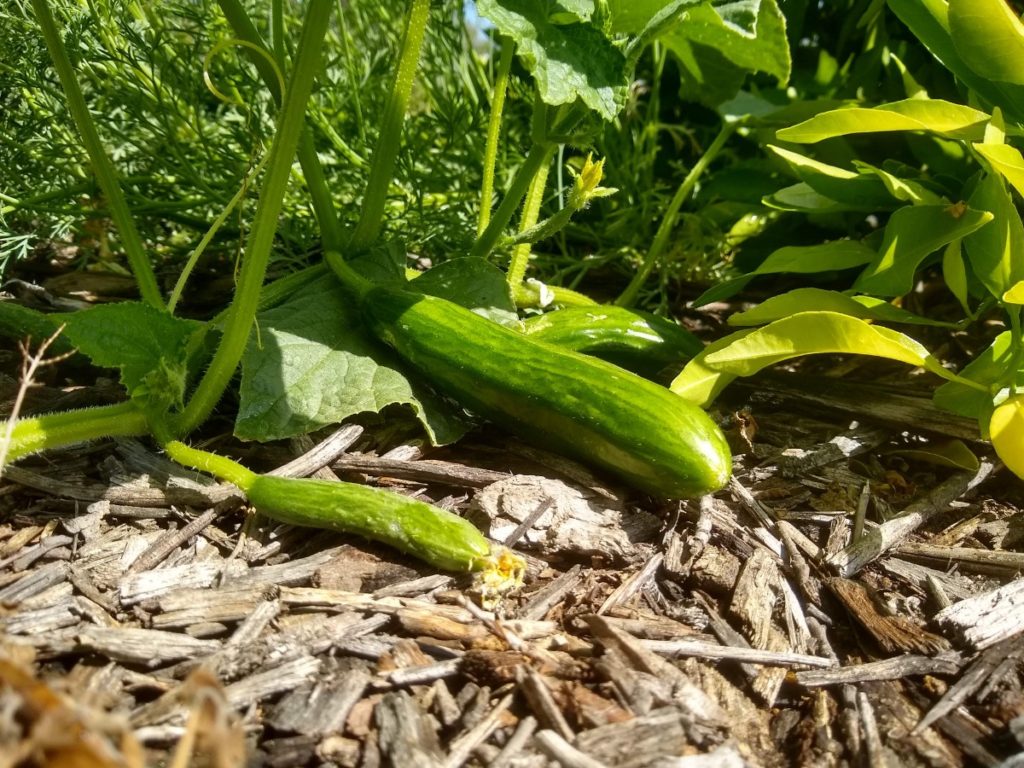 The seed cavity in the center of a 'Green Finger' cucumber is small so the cucumber is crisp through and through.
The plants are highly productive too, setting fruit immediately upon planting and never slowing down. Last year, our 'Green Finger' cucumber plants astonished me by how long they thrived and produced, and this year they're astonishing me by how early they are producing. We've started eating them only three weeks after planting.
How I grow 'Green Finger' and other cucumbers
I know people who grow great cucumbers by allowing them to sprawl in their vegetable gardens.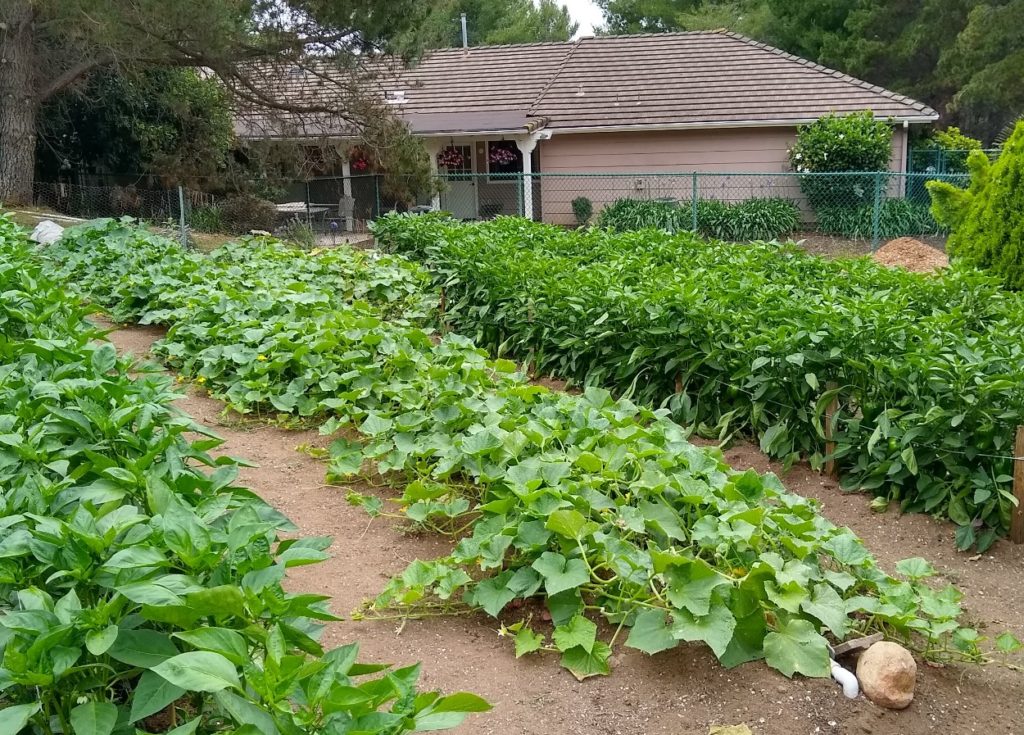 And I know people who grow great cucumbers by training them up a tomato cage or some type of trellis. But for the last few years I've grown most of my cucumbers by planting them near the southern edge of a fruit tree's canopy.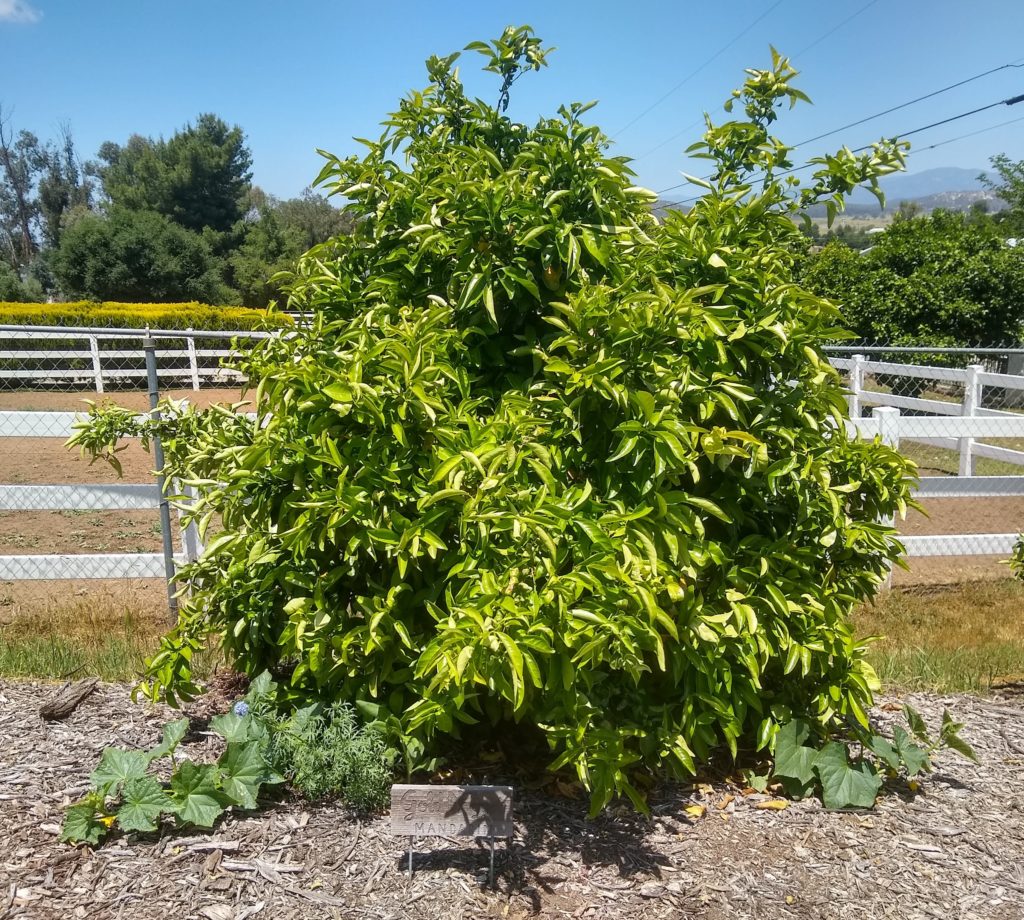 Usually, it's a citrus tree or an avocado tree because I water these trees about as often as I water my vegetables. I don't find pests to be a significant problem even as the cucumbers develop while lying on the ground, but sometimes pill bugs do munch the skin a bit. It doesn't affect the taste so I don't mind.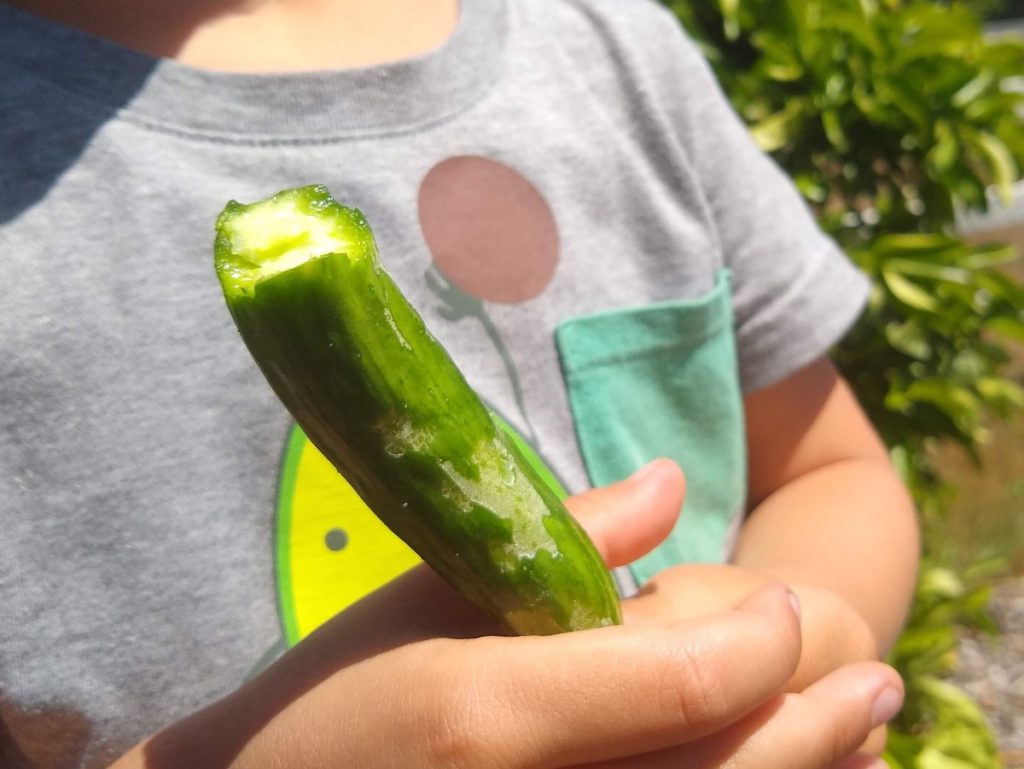 (See more about this way of growing in my post, "Growing vegetables under fruit trees.")
The cucumbers might also grow less straight this way. But who said cukes are supposed to be straight?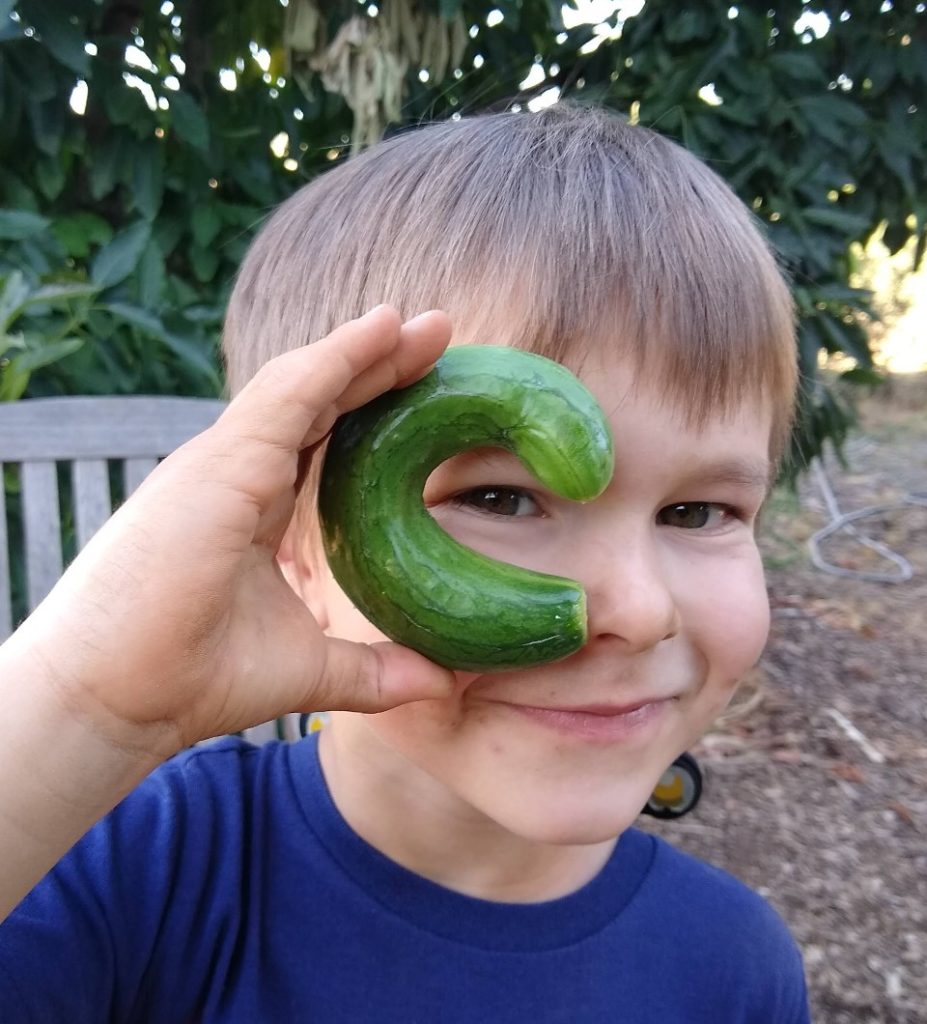 This year (2020), I sowed my cucumber seeds on March 3, and I planted the seedlings out in the garden on April 26. These are normal dates for my first cucumber sowings and plantings of the warm season, and they've been successful year after year. These dates should work well for all areas of Southern California. You can continue sowing cucumbers through June, and you can continue planting cucumber seedlings through July.
Currently, I have four plants in the ground to provide fresh cucumbers to my family of five. This should be enough. Last year, I only had two 'Green Finger' plants growing at any one time, in addition to a couple of other varieties of cucumbers, and it wasn't sufficient because we all wanted more 'Green Finger'. This year, I've sown more 'Green Finger' and forgotten the other varieties, except that I will plant some 'National Pickling' for making pickles.
Where to buy 'Green Finger' cucumber seeds
I have bought seeds for 'Green Finger' cucumbers from Renee's.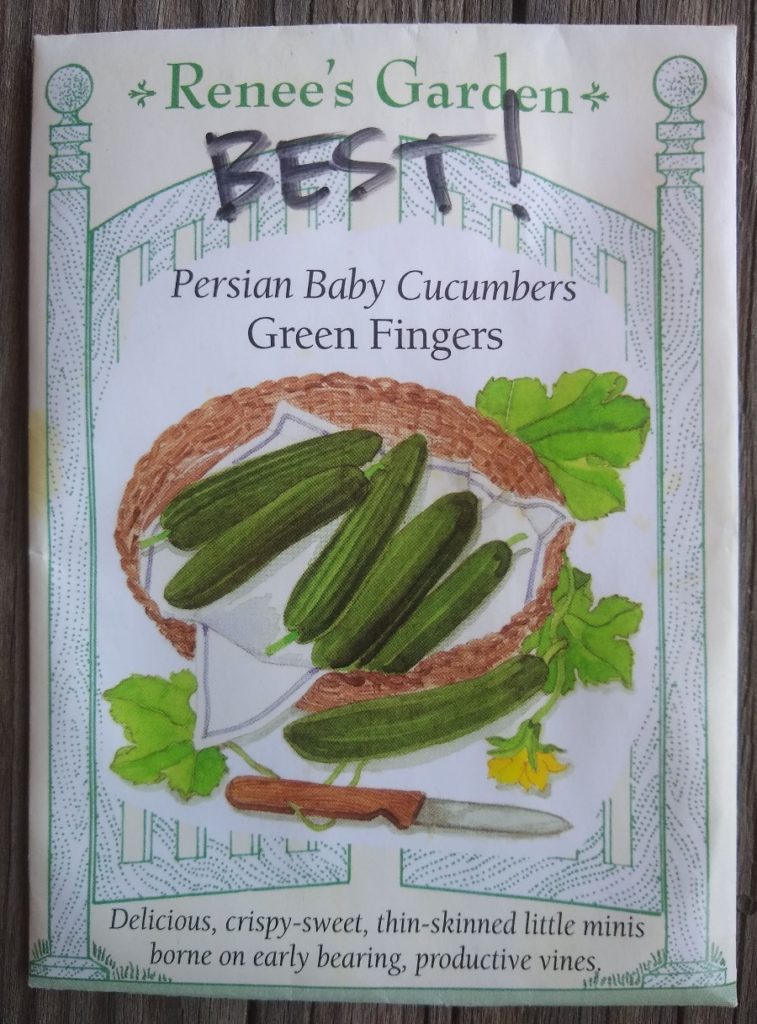 I hope you sow some and get to harvest a few before the kids pick them all!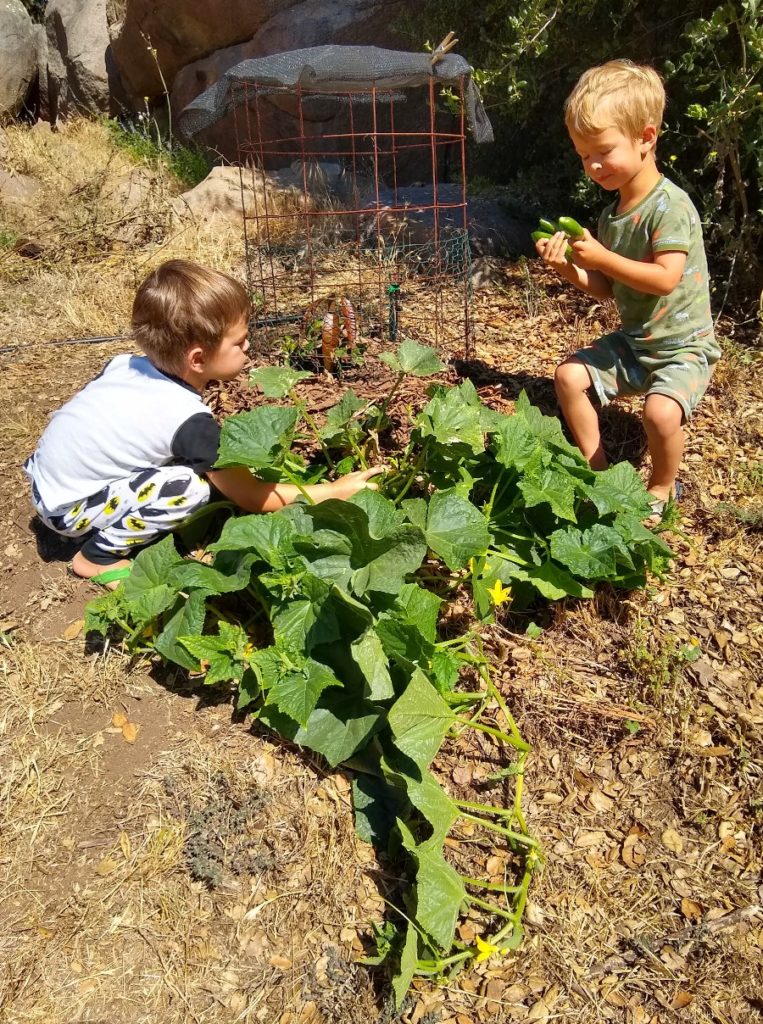 A list with links to all of my Yard Posts is HERE.