Last week I was with my cousin Paul as he bought a large heirloom tomato at a farmers market and then made breakfast with it the next morning: toast with mayonnaise, hunky slices of tomato, and salt. It looked like the right thing to do. So when I got home I picked a Kellogg's Breakfast tomato in my yard and imitated Paul's breakfast and, ooh, it was the right thing to do.
This tomato variety, Kellogg's Breakfast, is as meaty as any I've grown. It holds together very well on a piece of toast. It holds so well that my daughter likes to eat a fat wedge as if it's watermelon.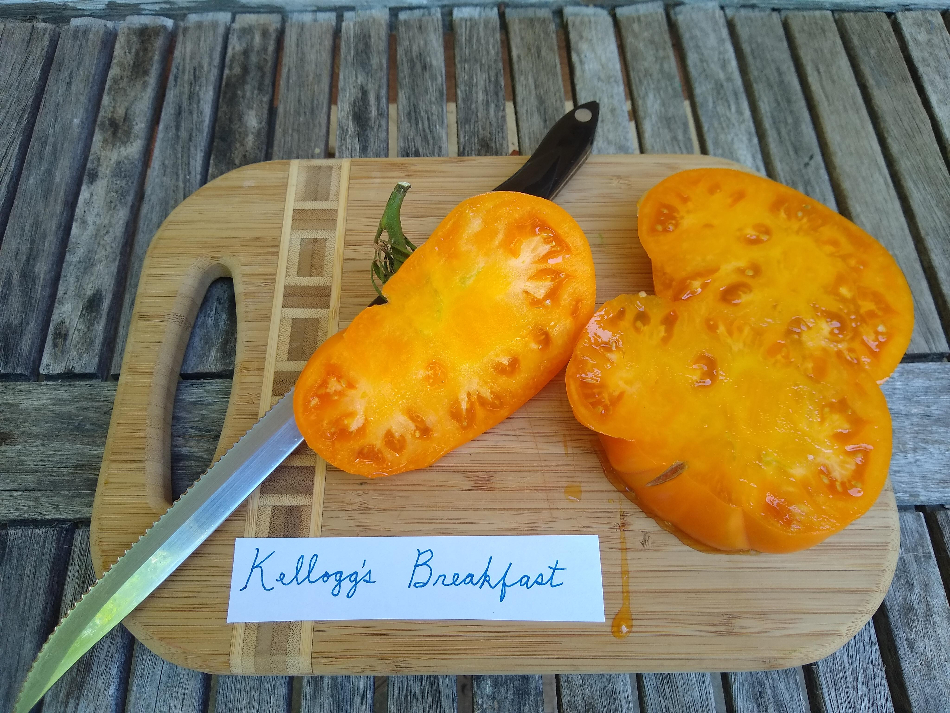 Kellogg's Breakfast is large, somewhat furrowed, sometimes with slightly green shoulders, and turning Valencia-orange orange when fully ripe.
It's true that I have grown prettier orange tomatoes. Striped German can be prettier, and Pineapple is gorgeous. I once harvested a Pineapple tomato that I wanted to kiss. But for its type, Kellogg's Breakfast has been more productive and had less skin cracking than those varieties. It's been an overall better performer in my Southern California garden.
This despite the variety having no local roots. According to Seed Savers Exchange, Kellogg's Breakfast tomato comes from West Virginia and was named by SSE member Darrell Kellogg of Redford, Michigan who received it from a friend.
I bought my seed from Territorial, and I've grown it a couple years in a row. As of now, Kellogg's Breakfast is my favorite big, meaty orange tomato to grow.
Hey, no ads! That's because of your direct support. Thanks for that.
My main post on growing tomatoes in Southern California is here.
All of my Yard Posts are listed here.