I love avocado trees, and I sure love my son Miles, but toward the end of the summer his placenta tree started to lose leaves and then lose more leaves and then have some die back on branch tips, so I got emotional in a way I never have toward a tree. I've killed many trees over the years; it's part of the learning process. But the prospect of killing the avocado tree that I planted over my son's placenta upon his birth felt like failing as a father.
I dug around the base of the tree with my hands to find the problem. Was it a disease? Could I even save it? A healthy avocado tree has roots with white tips poking up into the mulch or leaf litter beneath it, but I found none. So I dug deeper. I found only a few roots. Where were they? Then my fingers poked into a cavity, I wiggled them in the air pocket, and I knew immediately where the roots had gone — or more accurately, who had eaten them. I followed the gopher tunnel more than halfway around the base of the tree. A gopher had eaten over half of the tree's root system. A tree that loses roots sheds its leaves in order to bring its top into balance with its bottom.
I had never been angrier at a gopher. I immediately set every trap I had.
At the same time, I felt grateful that the buck-toothed varmint hadn't finished off the tree entirely. Only a few weeks prior, another gopher had eaten to death a young Hass avocado tree I had planted in another part of the yard. Until the killing and damage to these two avocado trees, the Hass and Miles's Sharwil, I had thought of the gophers in my yard as being a real threat only to my vegetables, which they had been attacking from day one. But now I had to patrol the rest of the yard where the fruit trees are too?
It's appropriate that Miles and his Sharwil avocado tree would surprise us and require us to adapt. Miles was so calm and sleepy in his first few months of life that we were worried, and now — at one year old — he's so loud and stubborn that we're a little worried in a different way. In that photo at the top — our annual "pose with your placenta tree photo" — he squirmed out of Ursula's lap to roll around on the ground and run toward me to grab my camera.
As for his placenta tree, I did catch the cause of its problems.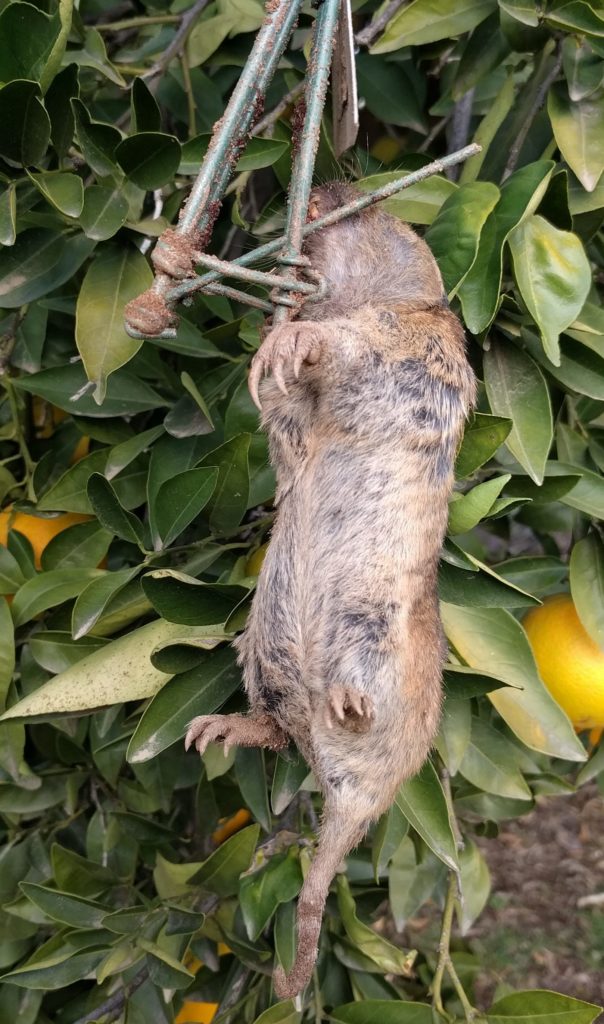 But only after a protracted hunt. So I'm adapting my methods and diversifying my arsenal.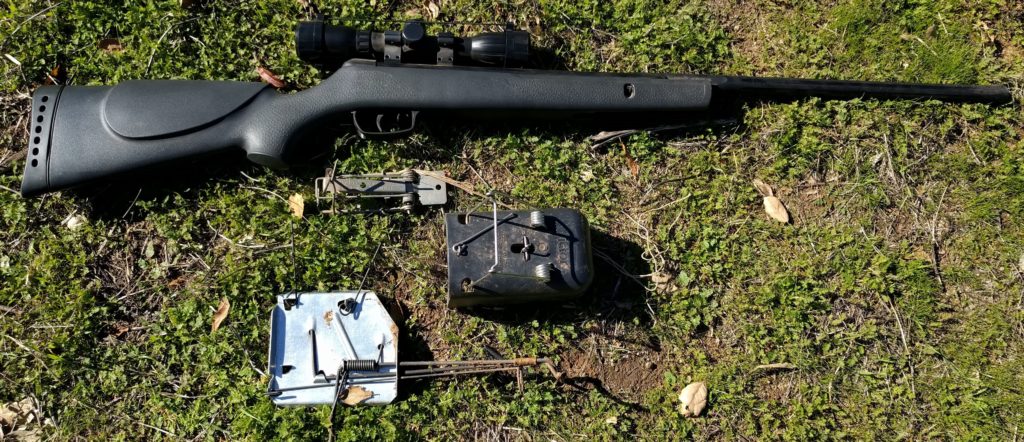 The Cinch trap on the bottom represents my latest acquisition. The Cinch trap's main benefit is that you don't have to dig a big hole to set it. I have grown so tired of making craters around the yard in order to set pincer and box traps, especially within the vegetable beds. (I've also grown tired of standing near an active feeder hole to try and get a shot at a gopher's head. Waste of time.) The Cinch trap can be inserted into a small surface opening to the gopher's tunnel network. I've found it very effective so far. (Here are some videos that have helped me use it properly, done by master Cinch trapper Thomas Wittman.)
I dug around Miles's Sharwil tree today to check for roots, to see if any had grown back in the past month or two since eliminating the gopher, and found some white tips. Hurray! Happiest I've ever been upon seeing avocado roots.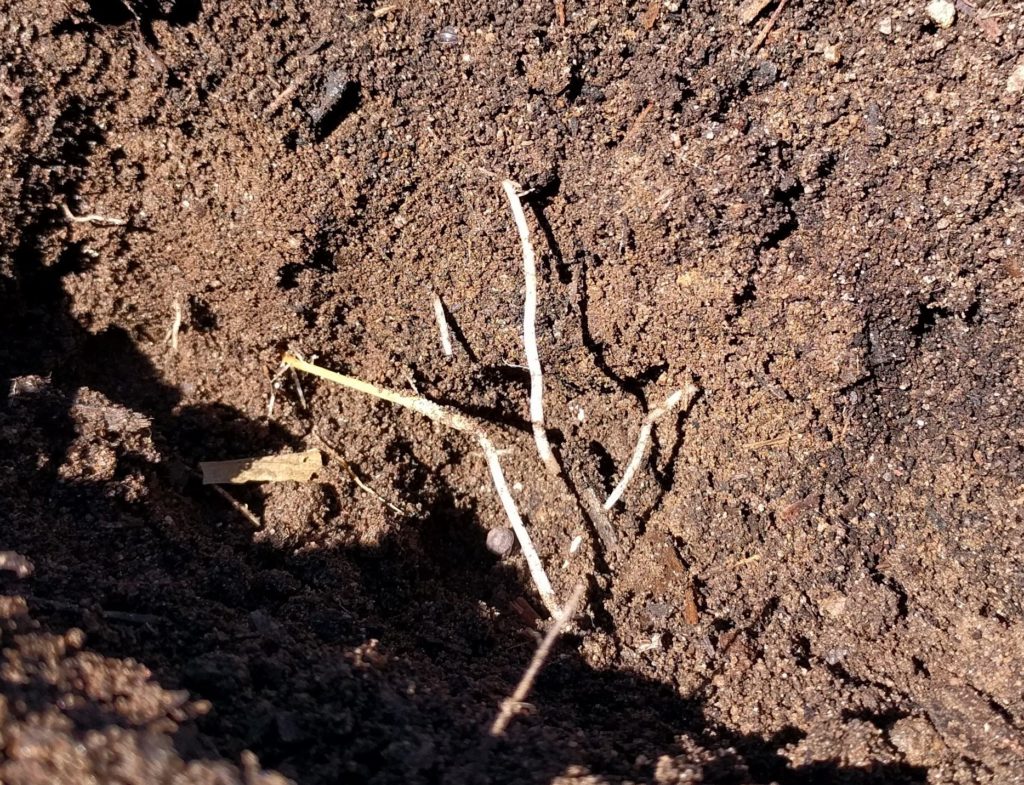 My lesson going forward is to immediately set traps whenever gopher presence is detected in the yard. There is more at stake than just plants.
You might also like to read:
"Planting Reeve's placenta tree."