'San Diego' tomatoes
I shouldn't be surprised, but the variety of tomato called 'San Diego' is thriving here in . . . San Diego. Why did I wait until this year to try it? Compared to the other varieties I've grown in this yard — including Ace, Better Boy, Pineapple, San Marzano, Costoluto Genovese, Kellogg's Breakfast, Early Girl, Juliet, and Brandywine — the San Diego variety is just as productive or more so, has nice color, no sunburn, and very little cracking. I'm also pleased with the taste.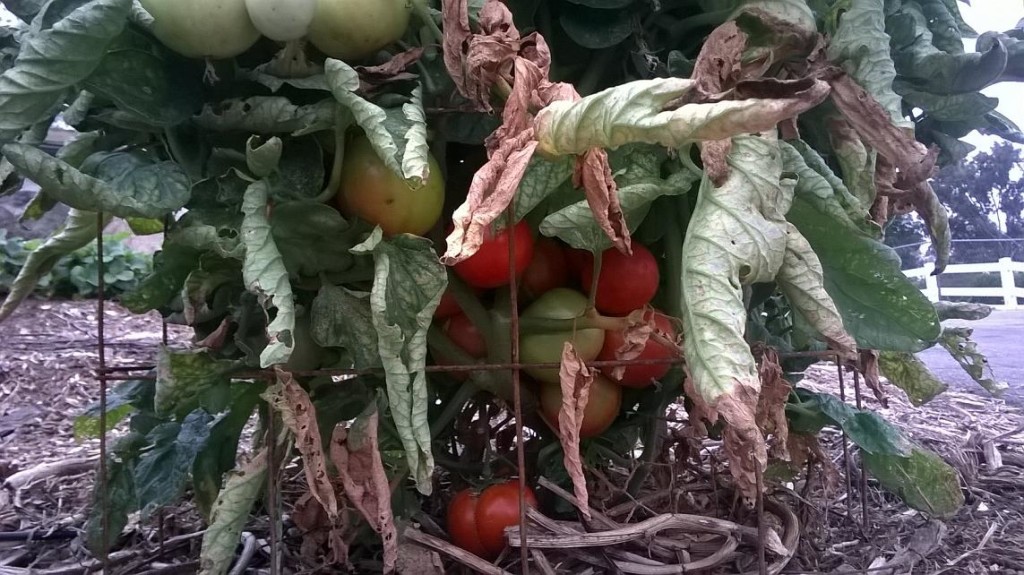 Oddly, I can't find any information about the history of the variety. I don't even know if it was bred in San Diego or if it got its name for another reason. One website, Fedco Seeds, has the most information, and this is about it: "Won our paste test of determinate hybrids . . ." Yet the tag on the tray of seedlings I bought in March says it is indeterminate. The plants so far do not seem determinate — that is, they continue to grow and set new fruit even though I've already been picking ripe fruit from them for a couple weeks.
---
Supporting tomatoes
Another "why did I wait until this year to finally . . ." relates to the support I'm giving all of my tomatoes. This year I invested in real cages, the kind you have to build yourself. I'd tried every simple and cheap method in the past: I tied them onto the chain link fence, I let them sprawl wild on the ground, I fastened them to a stake, I twisted them up a string attached to the eaves, and of course I tried the little wire tunnels they sell as tomato cages. None of those methods satisfied, either because they couldn't contain a vigorously growing tomato plant (little cages), because they require too much training (strings on eaves), or because they make harvest a pain (sprawling wild over the ground). So I forked over $98 at the hardware store for a roll of steel mesh (used in reinforcing concrete) and made cages that are five feet tall and two feet in diameter.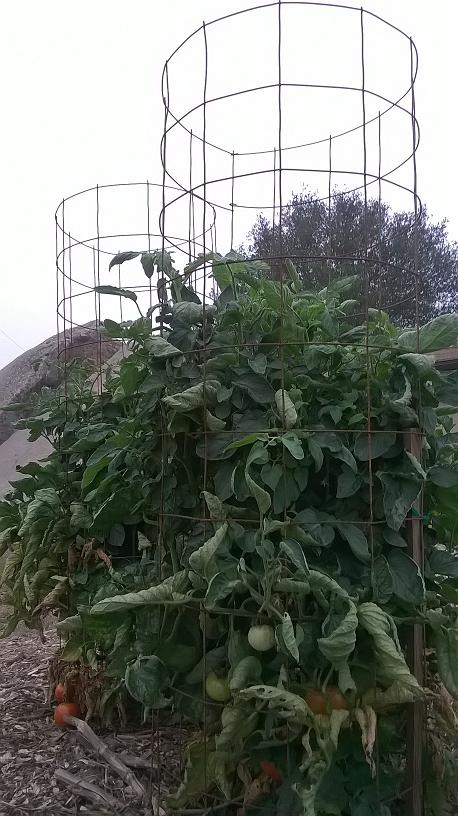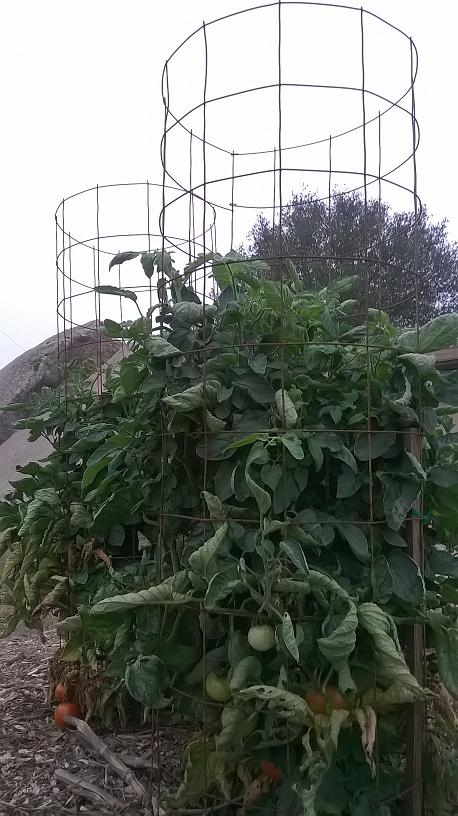 In April, when a visitor saw the baby tomato plants inside the huge cages she joked that I might be overly ambitious. But here we are in early July and many of the plants have already gone a foot over the top of the cages, such as these 'San Marzano' plants — they're as tall as my corn!