As I was thinking about how rainy and cold this winter has been for Southern California (and almost every other corner of California, especially Central California), I recalled that the National Weather Service issues "climate outlooks" at the start of every season, and I wondered what they had predicted for this one. I had read it; I read them all. But I couldn't remember what the prediction had been.
Weather is the main source of drama in my life. I don't watch TV, and I can't remember the last movie I saw.
But I aim to grow nearly all of the fruits and vegetables my family eats. Because of this, I read the weather forecast at least once each day, as upcoming rain or wind or heat or frost or hail has a great effect on my daily activities. And a dangerous forecast makes me feel suspense, worry, drama.
So I looked back for that "climate outlook" before this winter. I found that on October 10, 2022, the National Weather Service issued the following prediction for the winter of 2022-2023, specifically December through February. For temperatures, the prediction was that they would be above average, a warmer-than-normal winter. For rainfall, the prediction was below average, a drier-than-normal season.
Again on December 15, 2022, the National Weather Service came out with a new "Climate Update, Winter 2022-2023 Outlook," specifically for January through March. But the prediction was the same: the winter would be drier than average and warmer than average.
One graph in this climate prediction showed a "very low" 20-40% chance that California would reach average rainfall for the year. This prediction shared by the National Weather Service came from the Center for Western Weather and Water Extremes at Scripps, UC San Diego.
These climate forecasts were the opposite of correct. In fact, it seemed as if the sky heard the December prediction and immediately set to making it look foolish. Clouds soon rolled in, temperatures soon dropped, and within two weeks it was raining and it has barely let up since.
A month after that December 15 forecast, an updated NWS video reported that between December 21 and January 19 almost all of California received "two to four times as much [precipitation] compared to normal." It ranked as the wettest period on record for those dates for some California locations. (I wrote about this period in my post, "That string of storms.")
For my location in San Diego County, as of today, 28.85 inches of rain has fallen so far this water year, which starts on October 1. This already nearly doubles the average (of about 15 inches) in an entire water year, which doesn't end until September 30. Up near Santa Barbara has received way more.
You lived through it. You know how wet it has been. You've seen the flooding and the extreme snowfall in our mountains. How often have you irrigated your garden this winter?
I haven't irrigated anything for three months. On November 13, my daughter sowed a patch of fava beans. She never returned to water them and this is how they've thrived on rainfall alone.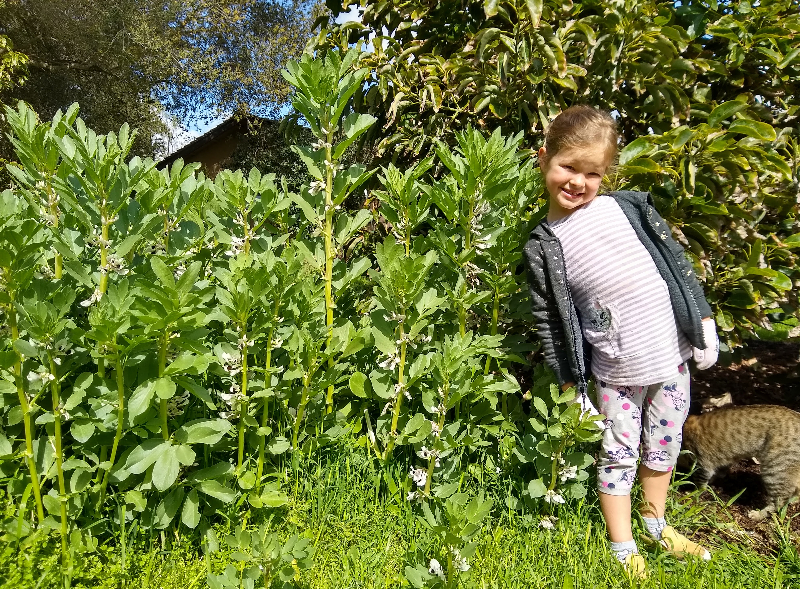 Then there is the snail's pace of growth of plants that need warmth. As of today, there is still not a single avocado flower open on any of my trees. Last year, I had first flowers open on January 16. In 2021, I had first flowers open on January 19. It looks like I'll have first flowers opening on my avocado trees this year in a week or two, so that's the end of March or beginning of April — retarded by more than two months by this abnormally cold winter.
I am humbled by the complexity of nature, weather, and climate such that meteorologists and climate scientists continue to have zero demonstrated ability to predict what the atmospheric conditions will be like more than a week or two into the future.
I use this past winter as an example here, but the pattern has been the same over the many years I've been paying attention to the National Weather Service forecasts and those of private meteorologists. Beyond a couple weeks, I've never seen anyone forecast with more accuracy than a flip of the coin. (Please let me know of anyone with a significantly better track record.)
Simultaneously, I am amazed by the ability of forecasters to predict the weather in the very near future. For example, on Tuesday morning of this week (March 21), the meteorologists of the National Weather Service in San Diego predicted 2.5 to 3 inches of rain would fall on my area that day through Wednesday night. Here is what my rain gauge looked like on Thursday morning.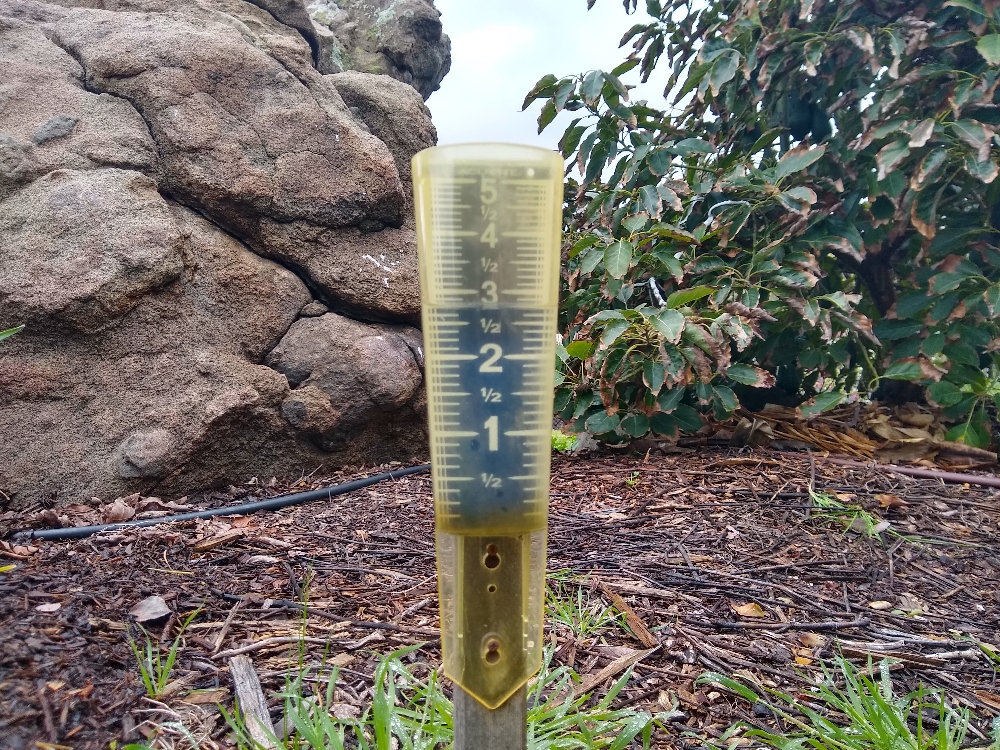 Right on the money!
What to do with all of this in your garden? Use the weather forecasts for the next few days to prepare to protect plants from dangerous cold or dangerous heat, or to prepare to irrigate or harvest rain.
But rely on historical averages for your window into the more distant future, recognizing that every year departs slightly from the average in one way or another.
Pay no mind to forecasts of what the weather or climate will be like a couple weeks out, let alone a couple months or years out. The evidence shows that meteorologists and climate scientists, and the computer models they build to produce forecasts, are of no use in guiding us that far into the future.
If such prognostications could be reliably made, then I would have been told that this winter was going to be colder than normal and I would have waited until here in spring to plant this baby mango.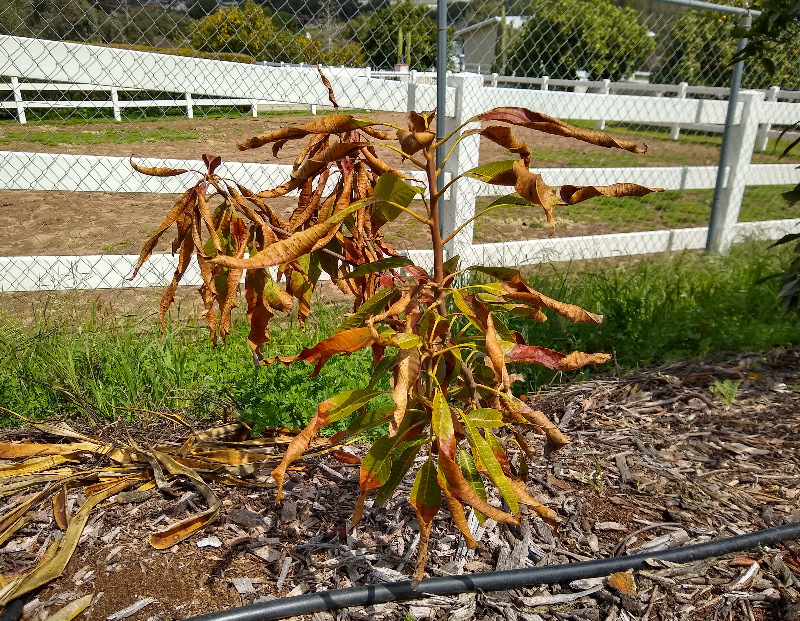 All of my Yard Posts are listed HERE
I hope you find my Yard Posts helpful, and I appreciate your support so I can continue. Thank you.