Just when I thought my vegetable garden was humming, I visited Roy's. Actually, before I visited Roy's garden, he handed me three bags stuffed full of pickings. One contained heads of romaine lettuce. Another had zuchinni, yellow squash, spaghetti squash, and cucumbers.
Beautiful produce, but it was only the last few items that made me realize the potential that Roy's garden was reaching that mine could.
This was last week, on Saturday, June 15. In addition to the above vegetables, Roy had picked for me green bell peppers and large red tomatoes — already! Again, this was on June 15 — and after having an abnormally cool spring.
Then came the kicker. Also in the bags were two heads of cauliflower. One was large and white, the other smaller and orange. Neither have I ever had coming from my garden at such high quality as late as now, the very last week of spring.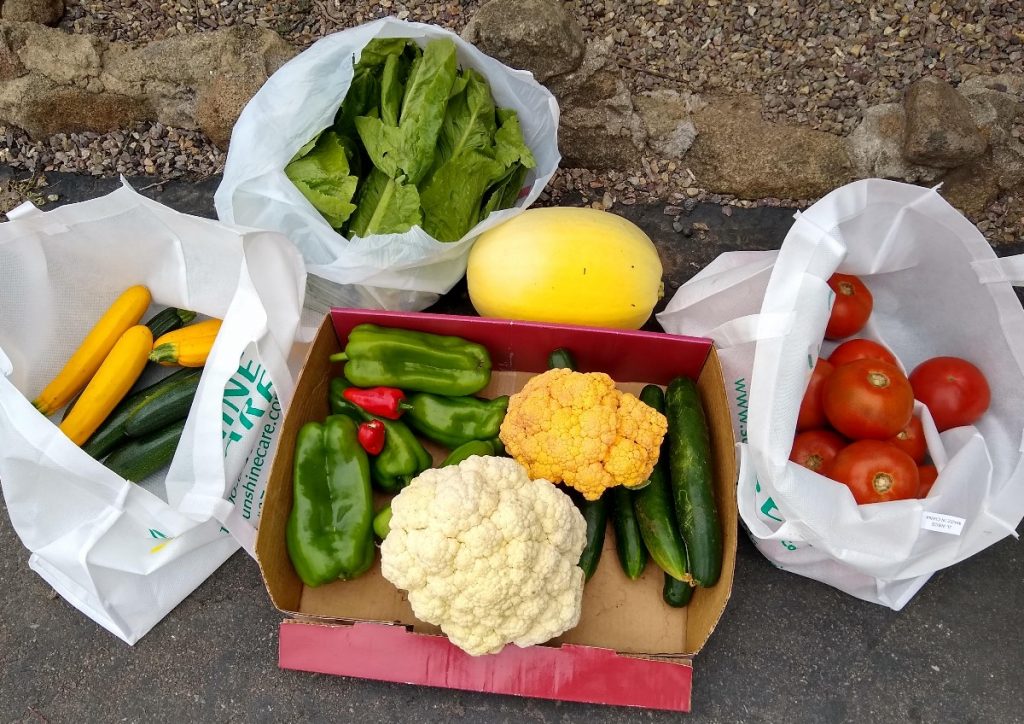 Roy's garden isn't in Oxnard or Salinas — a foggy, maritime climate. This is Poway, an inland valley of Southern California that had reached triple digits five days earlier, on June 10. Cauliflower hates 100 degrees.
"How do you have cauliflower coming still, now?" I asked, almost shouting.
"They're from my last planting, in March."
"Yeah, but did you shade them? What's your trick?"
"No. The weather cooperated this spring, and you have to choose the right variety."
The large white head was a variety called 'Candid Charm' whose seeds Roy gets from Territorial in Oregon; the orange was 'Cheddar'. He said he didn't shade them even during the couple days of heat except to snap a leaf and bend it over the head to protect it. That's all. No big deal.
Roy Wilburn, California Gardener of the Year
Roy Wilburn is the California Gardener of the Year for 2019, as selected by the California Garden Clubs, of which there are over 300. Think about that: How many gardeners are there in California — how many great gardeners?
But really, Roy isn't a gardener. Even his nickname shows it. People know him as Farmer Roy. He spent 20 years a commercial grower of strawberries and tomatoes and other crops up and down the Baja California coast, but especially near San Quentin.
His job title for the last decade, however, has been "Horticulture Manager." Roy grows tens of thousands of pounds of fruits and vegetables on the 32-acre grounds of Sunshine Care, a community of assisted-living homes where people with dementia and Alzheimer's reside and eat from Roy's garden.
But even that is only a slice of what Roy contributes to the world of gardening. I was at Sunshine Care with Roy last Saturday because he'd asked me to give a talk about drip irrigation; I was the monthly speaker in his series of free gardening lectures that he puts on for the community. He's been doing this a long time. A handful of years ago, I joined Roy at Sunshine Care as one of his first garden lecture speakers to give a talk on pruning fruit trees.
After my talk about irrigation on Saturday, he invited the 50 or so attendees to take home some vegetables that he had grown and picked for them, and to join him for a walk through his gardens.
Touring Roy's gardens
We strolled up the hill, opened a gate, and stood in the shade of a giant elderberry bush that had been pruned up into the shape of a tree. The first plants we focused on were squash.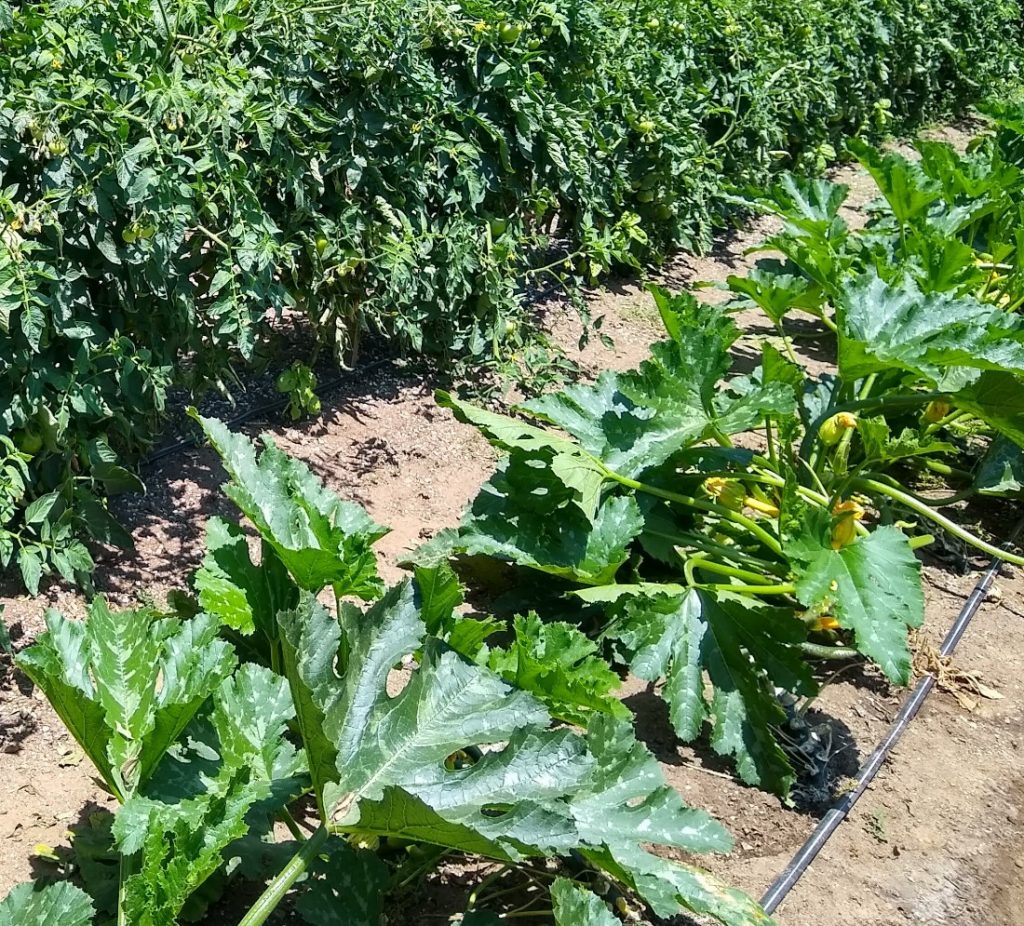 Roy explained that the plants have bare stems down low because he removes leaves from the bottom of the squash plants every time he harvests. This makes harvesting easier because the prickly stems don't scratch your arms as much, but it also makes the plants look more attractive because those old squash leaves yellow and turn brown on the margins, and they get colonized by powdery mildew.
"Really, if I were growing for myself, I probably wouldn't bother. But I have to make the plants look good for you guys here," said Roy.
(As soon as I got home, I removed the lower leaves on my zucchini, and it all of a sudden appeared so much healthier.)
Tomatoes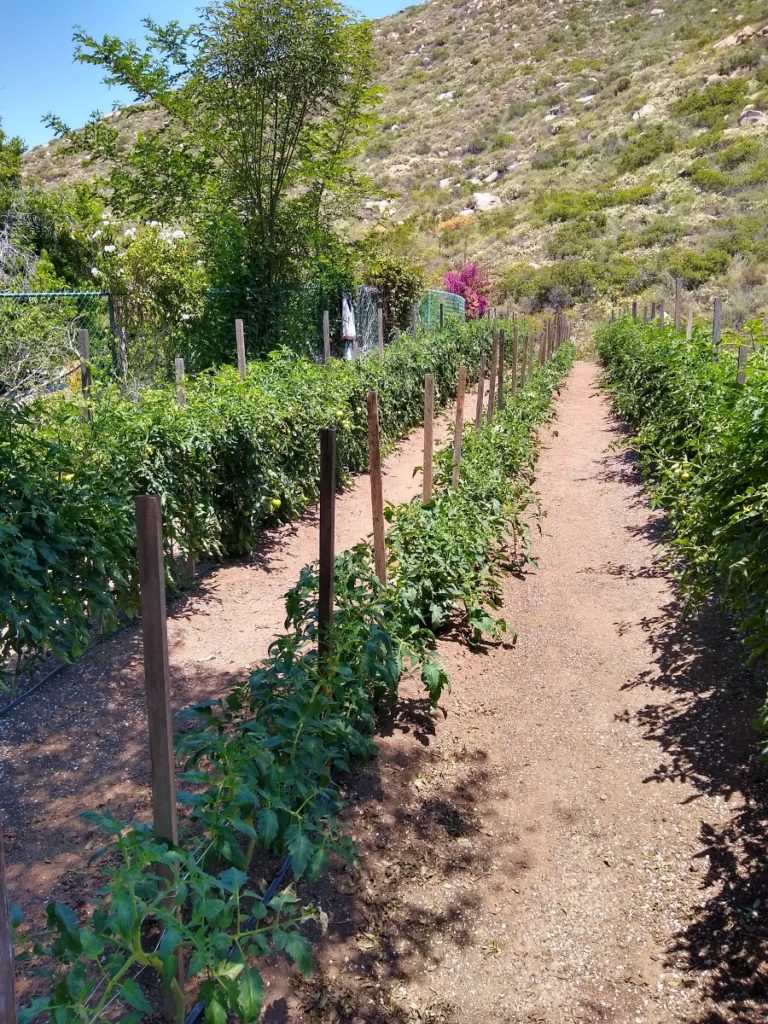 We turned to rows on the other side of the elderberry. His tomatoes are planted too close together! Hasn't he heard the rules? They were only 1.5 feet apart, all down a row that was dozens of feet long. Plant after plant after plant. Yet they were loaded with fruit.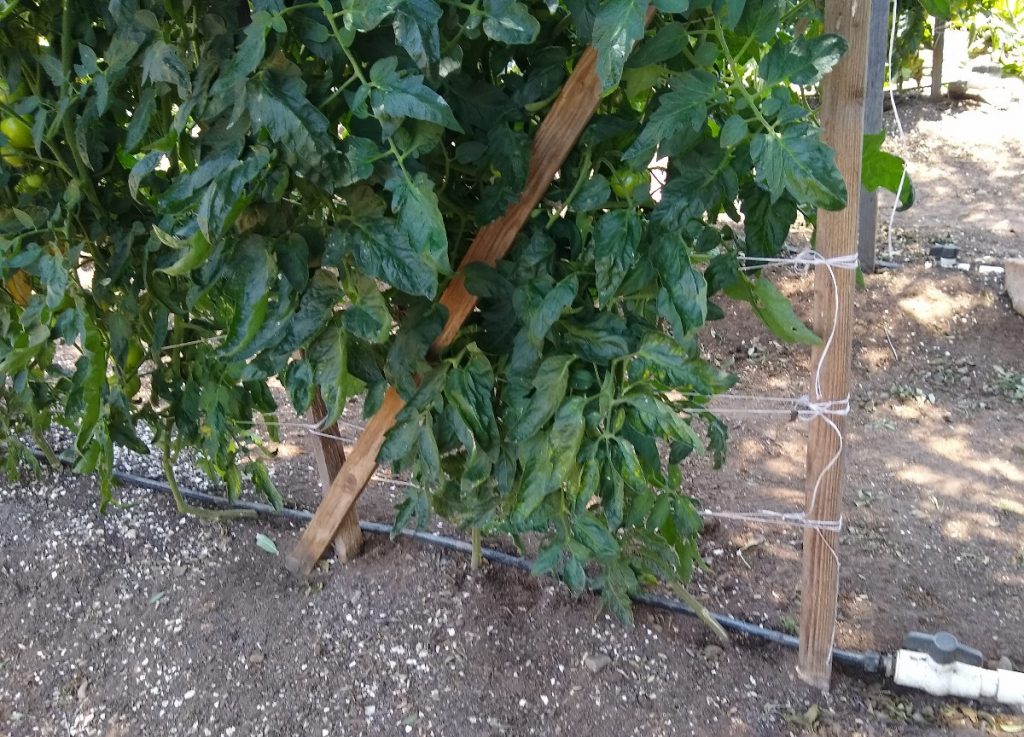 The tomato plants were kept upright by strings that were tied to wood stakes inserted in between the plants. Strings for support ran horizontally about every foot up the stakes. The look was of a uniform hedge of tomatoes that was kept surprisingly narrow. What is most notable about this method of supporting tomatoes is how it restricts the spread that tomato plants have naturally and yet it doesn't seem to reduce yield. It's a highly functional way of taming the wild, sprawling vines that tomatoes want to be. And since the plants are kept upright and narrow, their fruit are never hidden deep inside the plant, making for quick and easy harvest.
Roy shades his tomatoes in summer. He said he lays 30-percent shade cloth over the plants to prevent sun scald, usually starting in July. Similar to other inland valleys of Southern California, the summer sun and heat are intense enough at Roy's location to damage tomato fruit that aren't protected by leaves.
Peppers
He similarly shades his peppers. But in addition to the shade cloth, he gives them natural protection through his planting scheme: Not only are the plants set out every foot down the row — again, way too close! — but he also plants them in pairs. So down the row are pairs of peppers about a foot apart, with the drip irrigation line in between.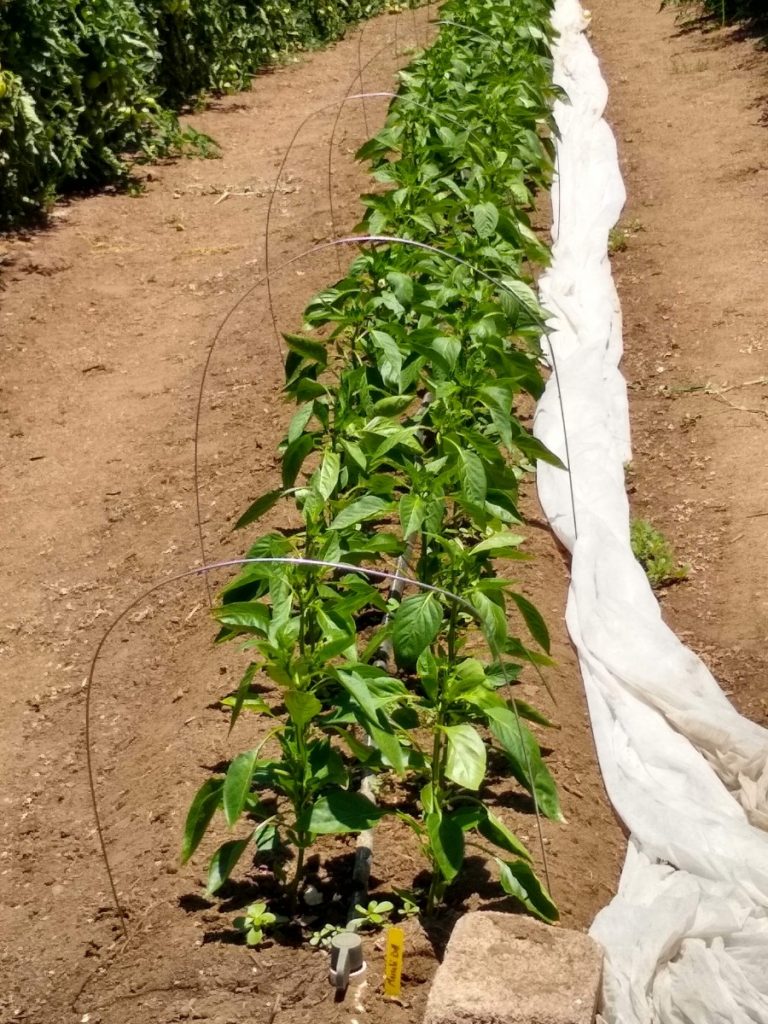 The side by side plants help shade each other, shade being especially important to large bell peppers during the summer. The peppers are also given string for upright support, like the tomatoes, but to support the shade cloth over the peppers he uses wire hoops.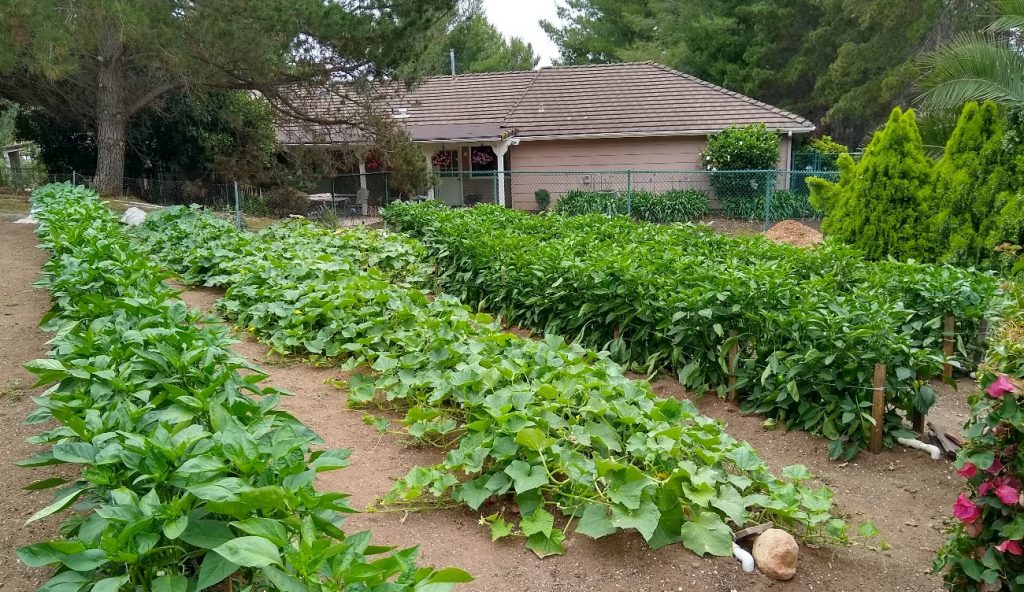 "I want to grow red bell peppers," Roy told me. "Anyone can grow green bell peppers."
Protective shade is key here since the fruit must spend a long time on the plant, vulnerable to summer sun, turning from green to red.
I've been planting my peppers closer together each year to try to achieve the same sun scald prevention, but not as close as Roy's, and I've never tried the side-by-side planting. I'm eager to try Roy's technique.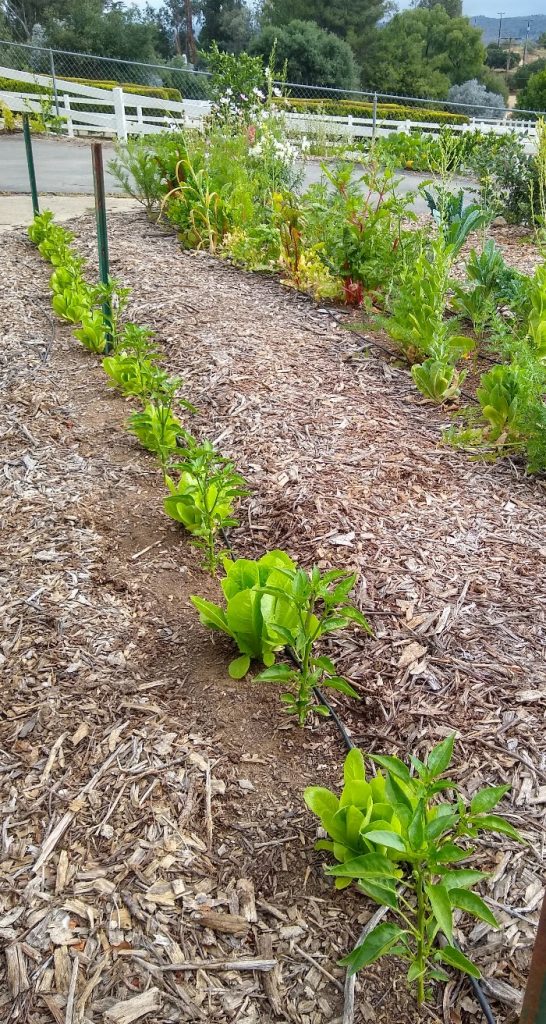 Children's Garden
Yesterday I visited Roy's garden again, but this time I brought the kids. So did many other parents. On the Sunshine Care grounds, Roy also runs a Garden Club for Kids, particularly aimed at preschoolers and home schoolers.
We started the morning with Roy directing us to pick cherry tomatoes. He grows twelve varieties in the "Children's Garden." In July, the kids will judge a taste test. 'Sungold' has won in years past, but 'Nova' is Roy's personal favorite.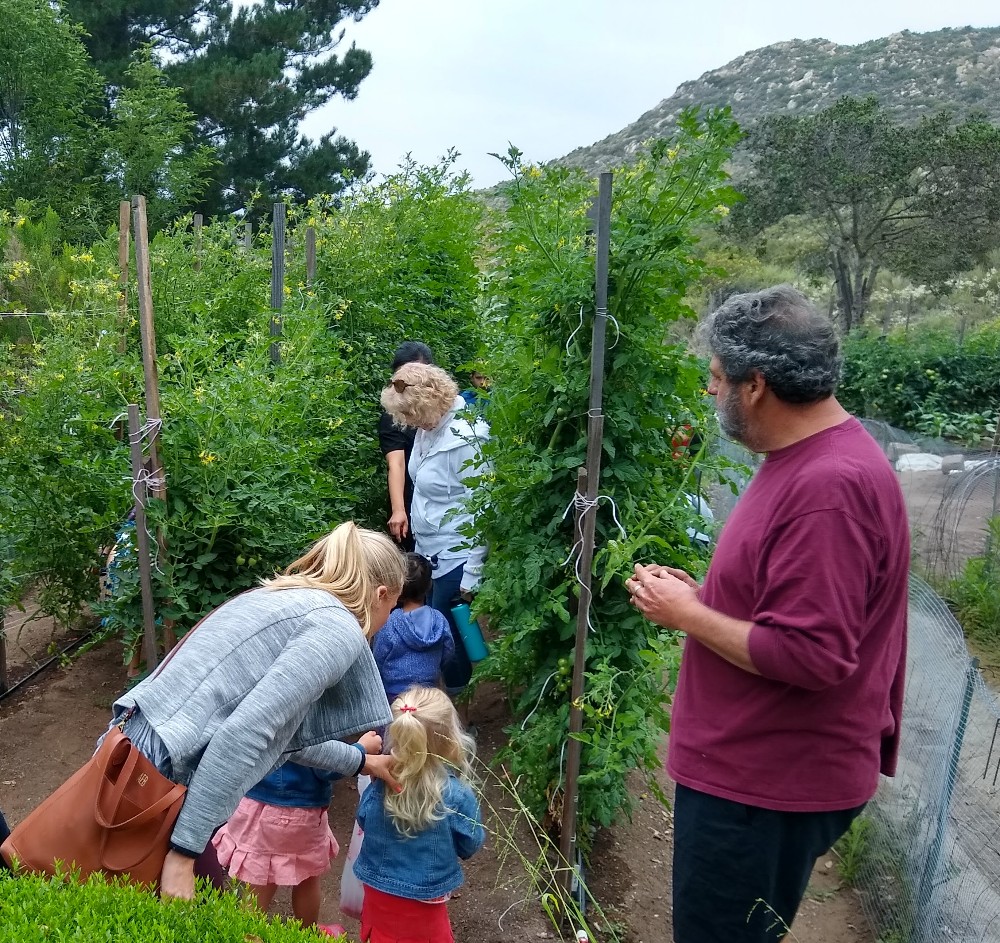 Then Roy directed us in planting some new tomatoes in another garden. "Plant them deep, all the way up to their fake leaves," he said, pointing to the cotyledons.
Roy told the girls to plant a roma-type called 'Mariana', and boys were to plant a large slicer variety called 'Mountain Fresh'. I carried my daughter and helped my boys grab 'Mountain Fresh' plants to row four. Roy had already dug holes and watered the bed. My boys buried their tomatoes up to their "fake" leaves as Farmer Roy instructed.
My kids have a bit of experience in gardens; they've helped me plant tomatoes. Still, this was Roy's dirt and Roy's method, and it was a learning experience for them. It appeared to be for all of the other kids as well.
Kids and old folks
From there, Roy lead us to another garden where we picked apples and then mulberries. And then we gathered by his greenhouse where about a dozen of the old folks who live at Sunshine Care were waiting for us.
Roy took a seat in the middle of everyone, the kids sitting at his feet, the old folks seated at tables to his right, the parents standing at the back, and he entertained.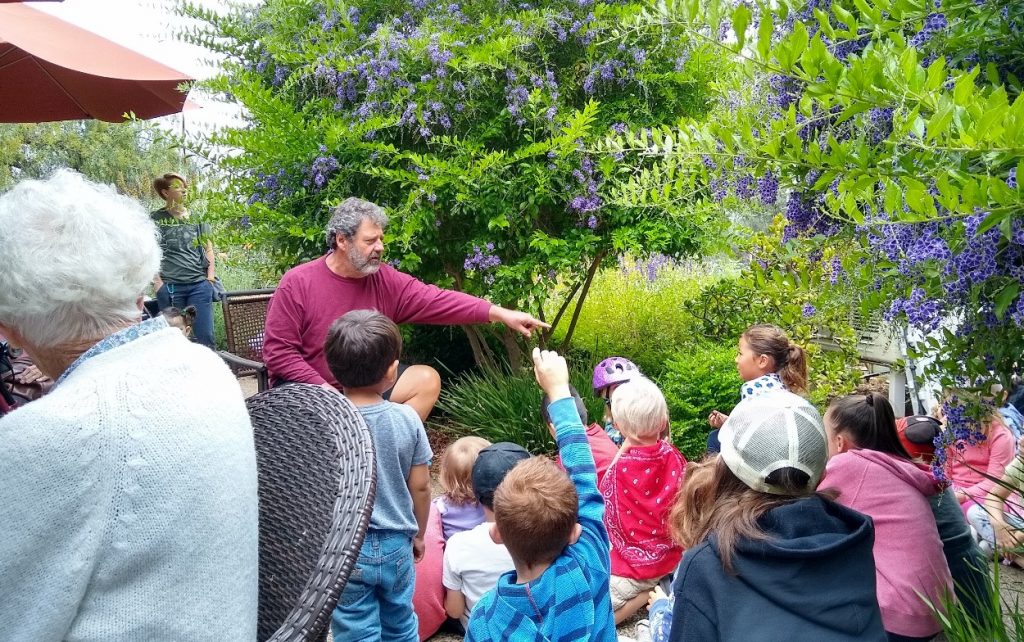 "What's your name?" he asked a girl.
"Sophia."
"That's a very nice name." Then he asked another girl, "What's your name?"
"Kayla," she said
"That's an . . . alright name."
This was fun and games. This was Farmer Roy talking. He's a joker.
Next even came a formal call for jokes. Kids in turn stood by Roy to perform their best comedy.
"Why did the "U" cross the road?" started one boy.
Why?
"He didn't. He made a U-turn."
Soon, Roy had the old folks at the tables helping the kids sow seeds in trays. At the table where I helped, we sowed basil. And I watched the interactions between the youngsters sowing some of their first seeds and the oldsters who may have sown a million. It was magical. Bringing kids and old folks together through a gardening task worked brilliantly, and it illuminated something for me. I thought of how gardening connects me and my own grandmother.
Gardening can connect people
Roy's character, his fondness for fun, belies the fact that behind his eyes are pounds of technical knowledge. He's a masterful gardener and farmer. He studied mathematics at U.C. San Diego before becoming a farmer. The hard science side is in him. And he can teach us to be better technical growers, to be sure.
But gardening can be a means to other ends. Roy uses gardening to feed people, of course, but also he uses it to gather and connect people.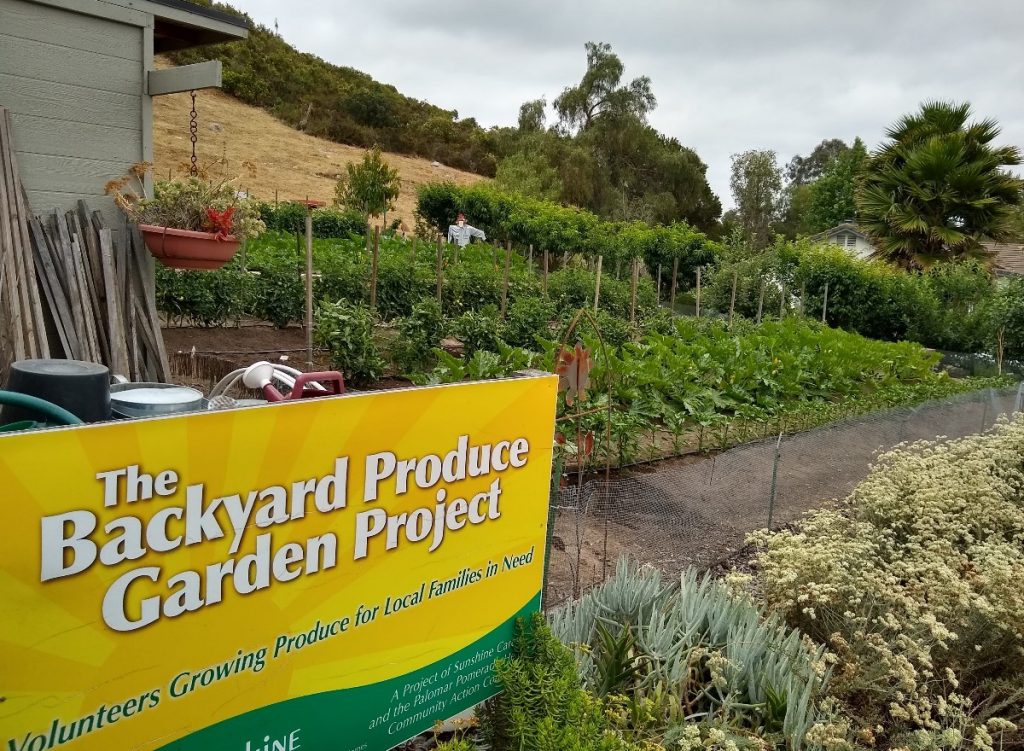 The Backyard Produce Project is yet another garden on the grounds of Sunshine Care that Roy grows alongside volunteers who donate the vegetables and fruits of their efforts to nearby families in need. Palomar Health, who runs the hospital next door to Sunshine Care, is a sponsor of this garden, as are a number of local companies. Lots of connections are being made there.
You're never going to visit Roy's gardens at Sunshine Care and not learn how to grow better peppers or better everything else. You expect to be taught that. But you don't expect to be shown that growing better plants is only where gardening starts.

You might also like to read my posts:
Reading my grandma's 1961 Sunset Western Garden Book