The new calendars are on their way! Last year, I decided to print and sell the gardening calendars that I'd been making for myself for years. This year, I'm in the process of having a 2021 version printed, which will have all new photos, a few tweaks to the information, and an extra page for notes.
It is $25 with free shipping. Here is the page for the new 2021 gardening calendar in case you're already ready to order.
What is in the calendar?
The cover of the calendar is shown above. And here is a sample page for the month of April: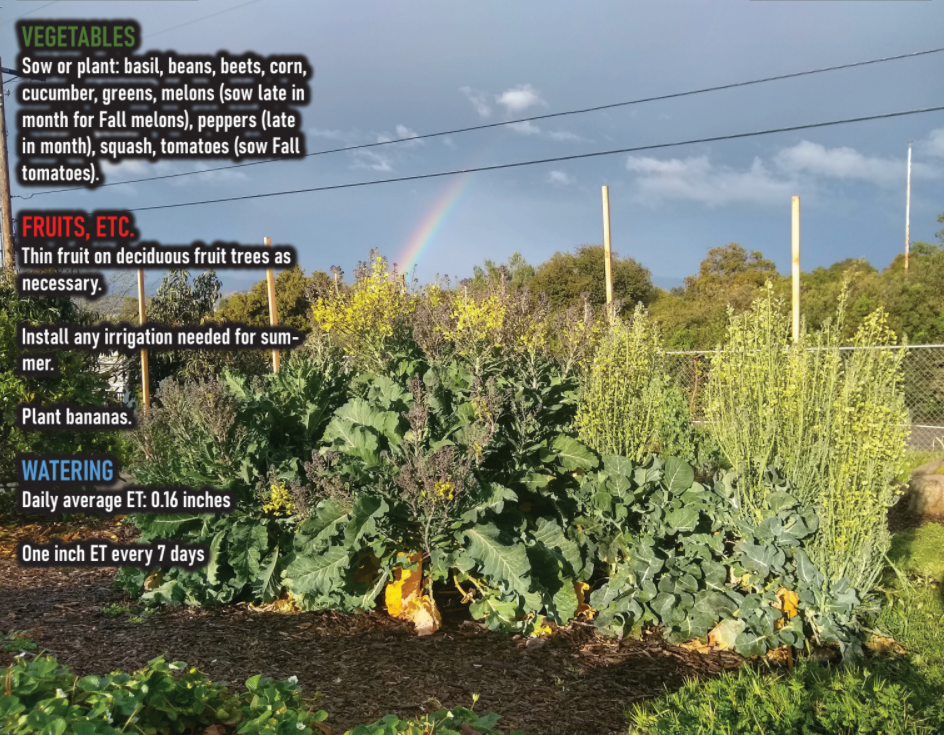 For each month, I list which vegetables to sow or plant; timely tasks related to growing and caring for fruit trees, vines, and berry bushes; and guidance on watering.
My goal with the calendar is to provide the above information, at a glance, for each month so we don't have to search on the internet or thumb through a book.
The information comes entirely from firsthand experience or is based on firsthand use (the watering information). I haven't copied and pasted text from some online gardening calendar. If I say, for example, sow carrots in November, it is because I've successfully sowed carrots in November in multiple garden locations multiple times. If I say, graft avocados in March, it's because I've done that successfully in many Marches.
Why the calendar format?
I put this information into calendar format because I like to have a calendar on which to record doings in the yard. I take notes on when I planted certain vegetables, when and how much I watered, when I harvested, etc. Here are my notes on the May 2020 calendar page: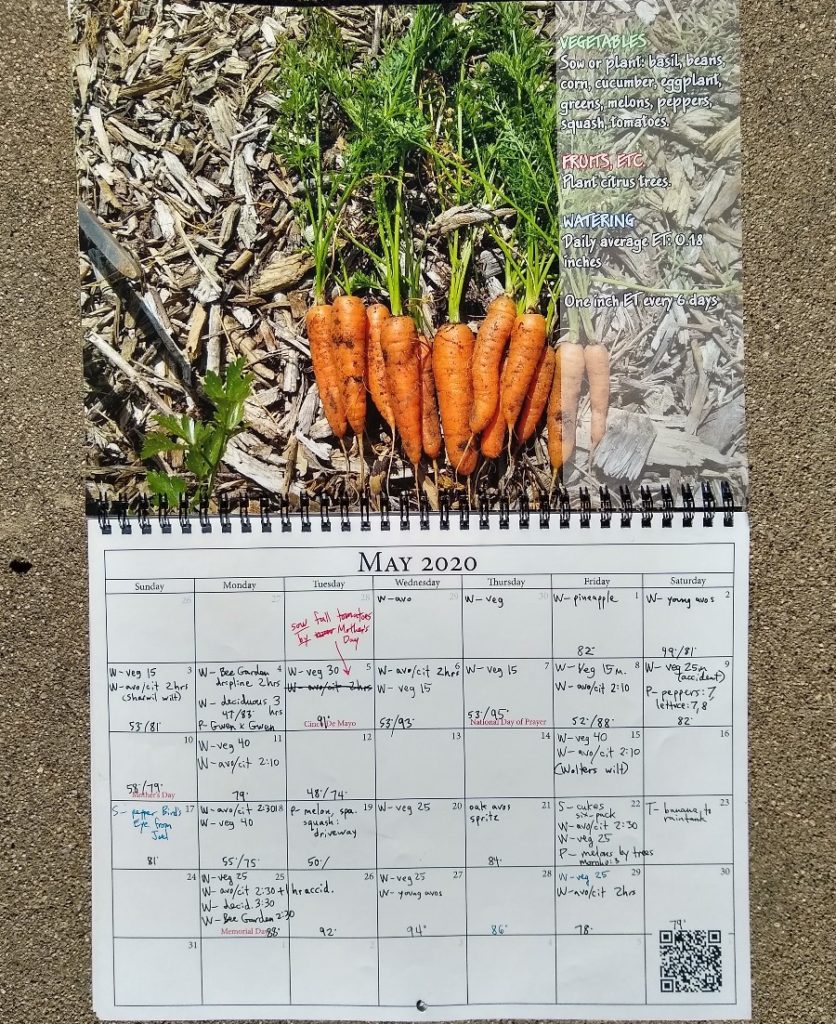 Which zones is the calendar geared for? (Define "Southern California")
My gardens in Southern California have been located about two miles from the ocean in San Diego as well as about twenty miles inland in North San Diego County.
Additionally, I frequently observe other gardens in the region. I visit Carpinteria at least once every year and visit gardens and orchards there, for example. Carp is in Santa Barbara County, the north end of Southern California. Also, I visit family and friends and their gardens throughout the year in every other county from Carp down to the Mexican border.
So where I believe the calendar's information is applicable — which is my definition of Southern California — is Santa Barbara down to Imperial Beach and inland to the mountains. As for Sunset Zones, this would be 18 through 24. As for USDA Zones, this would be 9a through 10b.
I've never gardened in the High Desert (Victorville, etc.) or the Low Desert (Palm Springs, etc.) and the information in this calendar would surely be off at certain times for those locations due to winter cold (High Desert) and summer heat (Low Desert).
Alternatives to the calendar
If you don't buy this calendar, please make use of these free resources with similar information:
My posts for each month of the year
"Which vegetables can I plant now in Southern California?"
Avocado calendar for 2021
This year, I'll also be making a calendar for 2021 about avocados. (Really, I'm going to get it done this year!) It will include ways to care for an avocado tree and stages of growth to look for in each month of the year. It will also include some harvest times for different varieties and watering guidance.
I expect the avocado calendar to be printed and ready for shipping in early December.
Ordering the gardening calendar
One more time, here is the page for the new 2021 food gardening calendar. You can find a few more details about the calendar, sample pages, and ordering information there.
A list of all my Yard Posts is HERE