Believe it or not, avocado bark is like our skin and gets sunburned. If left unprotected, a branch that is exposed, especially to the south or west sun, will burn.
The branch in the photo above is on a young Pinkerton avocado tree that grew out a long limb which drooped enough to expose some of its young skin to the overhead afternoon (west) sun. It got scorched during a recent heat wave.
What to do? Put on sunscreen. For avocados, Coppertone will not do. But white latex paint will. It doesn't need to be full strength: diluting the paint 50/50 with water will make a sufficiently opaque coating.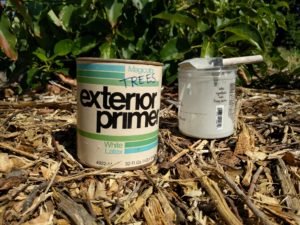 And then paint it on.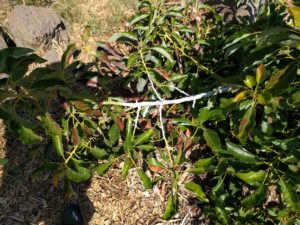 With the white latex sunscreen, the branch is protected and won't get burned further. If left unprotected, the branch would get burned so badly that the bark would begin cracking and the branch's health would decline.
So this summer if you see a section of a branch on your avocado tree that doesn't have leaf cover to protect it, give it protection in the form of white latex paint sunscreen. It will return the favor with a long life and many fruit.